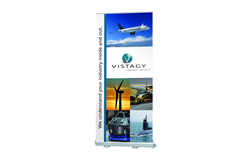 ...new discounted buying program for companies that have multiple unit buying needs...
Tustin, CA (PRWEB) June 12, 2014
Displays & Exhibits, Inc. a division of Absolute Exhibits, a major force in the trade show exhibit building industry, is pleased to announce a new buying program for companies with multiple unit buying needs. Companies that have national and regional sales teams use folding panel table top exhibits for in-office sales meetings regularly. They are great for sales representatives, managers, teachers, recruiters or any person that travels and makes presentations frequently. They are extremely professional, easily portable and lightweight.
Additionally, banner stand graphic displays offer a large impact for little cost. For a few square inches of the trade show floor, banner stands can make an enormous impression. They can be used for trade shows, presentations, and sales meeting or an office to promote a new product or to simply display a company logo. Outdoor banner stands will also be part of the discount program. These outdoor banner stands are weighted and coated to withstand heat, wind, salt water, rain, snow and sleet
The Displays & Exhibits Discount Buying Program is applicable to any product listed at the website, http://www.displaysandexhibits.com or call (888) 282-8858 for further help.
About Displays & Exhibits:
Displays & Exhibits (D&E) is a division of Absolute Exhibits. Established in 2000, Absolute Exhibits began as a portable/modular distributor, and now rents large custom exhibits at over 300 shows in the USA and in countries around the world.
D&E was created to serve the needs of first-time exhibitors, seasoned exhibitors that go to multiple local, regional, national and international shows and clients that do community work, in-house events, fairs, and festivals. The company offers portable banner stands, display boards, digital kiosks, display lights, display signage, and exhibit furniture.