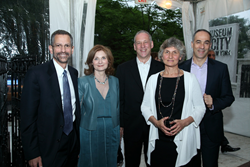 I find it difficult to accept the fact that DOROT is honoring me when, in the end, DOROT has given me so much more than I could ever give back…
New York, NY (PRWEB) June 13, 2014
On May 28, 2014, DOROT celebrated 38 years of intergenerational programs that keep socially isolated older adults connected to the community with an annual fundraising event at The Museum of the City of New York. Over $380,000 was raised to support DOROT's programs for seniors.
The beautiful event space was a fitting showcase to honor Alan Laytner, owner of Laytner's Linen & Home, for his dedication to DOROT. Alan served on the organization's Board of Directors, acted as the Chair of the Program Committee, and has volunteered with his family visiting older adults in the community over the last decade. He also donates items from his family business to the Homelessness Prevention Program, DOROT's transitional housing program for homeless older adults.
Alan addressed supporters about the influence and impact of DOROT on him and his family. He said, "I find it difficult to accept the fact that DOROT is honoring me when, in the end, DOROT has given me so much more than I could ever give back… It is a privilege to be honored by an organization with a history of competent, dedicated staff that works with intelligence and compassion every day, and to work with my wonderful fellow board members who have given wisdom, time and money – all of whom continue to inspire me."
The event theme was old New York and featured private, after-hours tours of the Museum, including the archives. DOROT's 38th Annual Spring Benefit was chaired by Joel Kazis; the Committee included Claire Ellis, Lisa Heffner, Rachelle Gribetz Laytner, Ann Wimpfheimer and Denise Wyse.
In addition, DOROT recognized the graduating high school seniors on its teen leadership board, Next Generation: Molly Kaissar, Elena Krasnoff, Jamie Lichtenstein, Jared Mandelbaum, Morgan Shear, Max Slepian, and Carly Steckel.