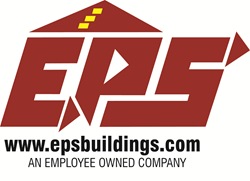 "...providing quality products, excellent service, dependable delivery and competitive prices"
Graettinger, Iowa (PRWEB) June 18, 2014
Energy Panel Structures, (EPS) is recognized as a national leader in manufacturing pre-engineered buildings and is proud to again be recognized with the Gold Key of Excellence Award for 2014. This is the 20th year that EPS has earned the award. Winners are chosen by readers of Rural Builder magazine based on providing quality products, excellent service, dependable delivery and competitive prices. EPS was also recently names as a Top 10 Product for their structural insulated panels.
EPS supports a dealer network in 34 states from headquarters in Graettinger, Iowa. Additional manufacturing, distribution and construction facilities are located at BBL Construction in Perryville, Missouri and Fingerlakes Construction in Clyde, New York. More than 400 independent authorized dealers erect and sell EPS structures for residential, commercial, agricultural and industrial markets.
The company recently expanded with the addition of a manufacturing facility for structural insulated panels at the Clyde location. The plant includes a state-of-the-art automated CNC machine from Weinman Manufacturing in Germany. Additional equipment will be used for laminating, cutting and prefabbing the panels. The plant will serve the growing customer base in the east.
EPS structural insulated panels are up to 50 percent more energy efficient than conventional construction with walls that are up to 15-times more air-tight. The panel buildings can be used for residential, commercial and agricultural building purposes. EPS is also a leader in the manufacturing of post-frame buildings for agricultural and industrial use.
EPS supports dealers participating in the ENERGY STAR residential program with assistance in training and qualification. Along with energy efficiency, EPS is also a certified "Green Builder" through the NAHB and provides dealers a complete green building certification process.
EPS offers complete custom-designed pre-engineered buildings, computer pricing programs and co-op advertising programs. The company participates in more than 50 trade show events each year. EPS is an employee-owned company manufacturing superior performing buildings since 1981.
EPS continues to grow and has over 350 employees at the three locations.