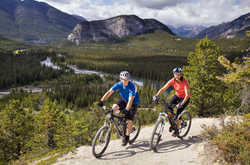 Banff, Alberta (PRWEB) June 13, 2014
In the Summertime, Banff National Park becomes the ultimate playground for hitting the pedals – cyclists of all levels can take their two-wheels to the road and experience some of the most stunning stretches of scenic highway in North America or, find the ride of their life on numerous backcountry trails.This summer, bikers can make tracks on brand new cycling trails located close to Banff townsite, on Tunnel Mountain - the latest addition to the Banff biking bucket-list.
Renowned for being a vast outdoor mecca for bike-lovers and with over 200km of mountain trails to discover, Banff National Park's thrilling combination of sub-alpine forest, valley grasslands and Rocky mountain peaks make for an awe-inspiring wonderland just calling to be explored from the saddle.
Tunnel Bench is the latest trail system to be launched by Parks Canada and the Bow Valley Mountain Bike Alliance (BVMBA), offering a diverse set of routes for bikers of all levels. For the experienced rider, an exhilarating mix of challenging and exposed technical riding can be found on the new Topp Notch trail and The Toe. For a tamer ride, mountain bikers have the choice of the single tracked Tunnel Bench Loop or Tunnel Technical Trails. For families with tiny riders, the hard surfaced Tunnel Campground Loop gives cyclists impressive views and a wide open trail to keep a watch for Rocky mountain wildlife in the distance.
Thirsty for more trail? Bikers can also get their wheels in motion on two of Banff National Park's must-do 'classic' routes – the 22.3 km Banff Legacy Trail and the picturesque Bow Valley Parkway, the spectacular 31km route that boasts open views of the Bow River and the peaks of Castle Mountain and links Banff to the hamlet of Lake Louise. This active wildlife corridor is also a common spot to see bears, elk, goats and other wild residents of Banff. To refuel, bikers can pack a lunch and stop off at one of the picnic areas along the way or indulge in a well-deserved wholesome lunch at the charming Baker Creek Bistro.
Banff, part of a UNESCO World Heritage Site and Canada's first National Park, is also perfect riding territory for pros and extreme cycle enthusiasts, having played host to the annual Banff Bike Fest since 2008 and also the proud home of the 'big ride' experience, the RBC Banff GranFondo.
The Banff Bike Fest takes place June 13-15 and sees 500 professional bikers from Western Canada and the US hit the roads in Banff National Park and battle it out in five events - all to claim victory and a $21,500 prize. It's not all competitive however, with mini-riders able to take part in the 'Balkan Restaurant Little Crits' children's race or for a little fun, the hilarious 'Cruise for a Cause' race – inviting adult riders to cycle in costumes and on wacky bikes!
The RBC Banff GranFondo comes to Banff National Park August 23, for cyclists of all levels seeking the thrill of riding the only GranFondo in North America that is fully contained within the boundaries of a National Park. The 142km route begins and ends in Banff, where cyclists ride together but at their own pace whilst taking in iconic Banff sights including: Tunnel Mountain and the Hoodoos, Lake Minnewanka, Two Jack Lake, Bow Valley Parkway and Lake Louise.
Visitors to Banff National Park who want to get out and explore on two wheels can buy or hire cycling equipment and bicycles, available at a selection of specialist stores in Banff townsite.
Got bike issues? The Town of Banff also offers a newly installed 'Bike Fix-It Station' in Central Park, where cyclists can partake in a little bicycle TLC before a ride. Bikers can easily pump up tires and make minor repairs whilst they're on the go, able to hang bikes from the arm to freely move pedals and wheels. The Bike Fix-it Station includes several tools securely attached to the stand with stainless steel cables and tamper-proof fasteners. Plus, those needing a little extra help with a repair can just scan the QR Code on the front of the station to get detailed instructions instantly!
To find out more about 'Biking Classics' within Banff National Park including interactive trail maps and video footage, see BanffLakeLouise.com or Parks Canada. For up to the minute road and trail conditions, visit the Visitor Information Centres in Banff or Lake Louise. Cycling images can be downloaded from the Banff Lake Louise Tourism Image Gallery.
[Ends]