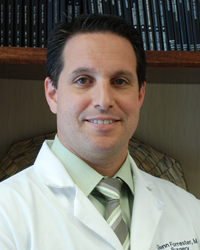 Winning this award puts me in very good company since my New Jersey Bariatric Center colleague Dr. Ajay Goyal also won the same award - New Jersey Bariatric Center Surgeon Glenn Forrester, MD, FACS
Springfield, NJ (PRWEB) June 16, 2014
New Jersey Bariatric Center weight loss surgeon Glenn Forrester, MD, FACS, was awarded the 2014 Physician Excellence Award for General Surgery/Bariatrics for his work in the field of Gastric Bypass, Gastric Sleeve, Gastric Band (LAP-BAND) and Bariatric Revision Surgery by Overlook Medical Center in Summit, NJ.
The award is given in recognition of physicians who exemplify clinical excellence, good citizenship and collaboration at Overlook Medical Center in Summit, New Jersey. The award recipients are nominated by the nurses and staff who work regularly with the physicians at the hospital. Dr. Forrester was nominated by Overlook Medical Center nursing supervisor Mary Paskow, RN, and accepted the award at a ceremony held in May at the Madison Hotel in Convent Station, New Jersey.
"In Bariatric Surgery – Gastric Bypass, Gastric Sleeve, Gastric Band or Bariatric Revisions - a team approach is essential," said Dr. Forrester. "I am fortunate to be a part of two excellent teams. The first is New Jersey Bariatric Center's medical and surgical weight loss team. Whether consulting with me on a case or sharing in the good news of a successful patient's weight loss, our New Jersey Bariatric Center team always focuses on treating each patient as an individual, helping them to put their goals within reach. The other team I am privileged to be a part of is at Overlook Medical Center's Weight and Wellness Center, where the nurses and clinical coordinators provide the highest standard of care to each and every patient."
"Winning this award puts me in very good company since my New Jersey Bariatric Center colleague Dr. Ajay Goyal also won the same award," Forrester added. "That is a testament to the type of practice New Jersey Bariatric Center is – one where clinical excellence and collaboration is highly valued."
New Jersey Bariatric Center founder Ajay Goyal, MD, FACS, director of Bariatric Surgery at Overlook Medical Center, was recognized with the same award in 2009.
"The award is well-deserved and is indicative of Glenn's commitment to quality care for our patients," said Dr. Goyal.
In addition to being part of the team at the New Jersey Bariatric Center, Dr. Forrester is the Director of Bariatric Surgery at Somerset Medical Center in Somerville, NJ. He is a board certified general surgeon, a fellow of the American College of Surgeons and a member of the American Society of Metabolic & Bariatric Surgeons (ASMBS), the Medical Society of New York, the Society of American Gastrointestinal Endoscopic Surgeons (SAGES) and the Society of Laparoendoscopic Surgeons (SLS ).
About New Jersey Bariatric Center
New Jersey Bariatric Center, a medical & surgical weight loss center with offices in Springfield, Somerset and Hoboken, New Jersey, helps patients achieve long-term weight loss success through the most advanced bariatric surgery procedures, including gastric sleeve, gastric bypass, LAP-BAND and REALIZE Band procedures. Led by the team of Drs. Ajay Goyal, Glenn Forrester and Angela Glasnapp and Leigh Montes, the New Jersey Bariatric Center's approach to patient care has resulted in zero mortalities and a complication rate that is lower than the national average. For more information about bariatric surgery, visit http://www.NJBariatricCenter.com.
Free monthly patient education seminars are held four times a month for individuals interested in learning more about weight loss surgery. To view dates or register for a seminar, visit http://www.njbariatriccenter.com/news-events/events/weight-loss-surgery-seminar or call 908-481-1270.