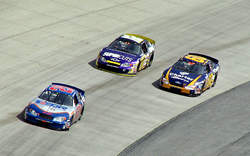 We are honored to be performing at such a thrilling event in the heart of America's motor industry.
Brooklyn, MI (PRWEB) June 14, 2014
The Quicken Loans 400 is a NASCAR Sprint Cup Series stock car race held at the Michigan International Raceway in Brooklyn, Michigan. Defending race winner Greg Biffle, Dale Earnhardt Jr., Tony Stewart, Jimmie Johnson, Jeff Gordon and the rest of your favorite NASCAR drivers will battle it out for the checkered flag in the Quicken Loans 400. Team Fastrax will be performing an amazing aerial display with 500 sq. ft. Chevy, Ford, and Toyota Flags, to start the race.
John Hart, owner of Start Skydiving, and member of Team Fastrax, said, "We are honored to be performing at such a thrilling event in the heart of America's motor industry. The energy and excitement of these races are like none other."
According to their website, the Michigan International Speedway is NASCAR's fastest track and the Great Escape, a venerable NASCAR national park where fans can get away and enjoy the very best in racing and camaraderie. They boast a proud, 43-year history of hosting America's best racing action on its 1,400-plus acres in the scenic Irish Hills. With 18 degree banking and 73-foot wide sweeping turns, Michigan International Speedway provides drivers with three and four grooves to run around the two-mile speedway.
Team Fastrax is sponsored by Selection.com, a leading provider of criminal background checks and pre-employment screening services. They are the most ambitious professional skydiving team in the world. The team has a roster of more than twenty-nine active members, with a culmination of more than 300,000 skydives. Team Fastrax has performed exhibition skydives all over the world for audiences large and small as a patriotic display or as a product promotion.
For more information on the race, or to purchase tickets visit the Michigan International Raceway website.
For questions or for an interview, contact Gene Newsom with Team Fastrax at 513-422-5867.