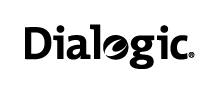 As WebRTC matures beyond an interesting technology to one that is useful for businesses, our PowerMedia XMS media server is providing sophisticated, production-ready applications and services from the doctor's office to financial trading floors.
Milpitas, CA (PRWEB) June 16, 2014
Dialogic Inc., the Network Fuel® company, today announced that it has reached more than 90 WebRTC engagements among telcos, enterprises, contact centers, cloud and Web companies, and public institutions. These WebRTC engagements span service provider and enterprise markets including tier-one network service providers and Fortune 500 companies, representing diverse use cases, including videoconferencing, interworking and recording. Similarly, Dialogic's PowerMedia XMS WebRTC ecosystem also continues to expand, with more than a dozen partners serving major markets such as telemedicine, financial services, enterprise collaboration and mobile communications.
Highlights and observations from Dialogic's 91 WebRTC engagements through May 2014 include:

Communications service providers (CSPs) demand WebRTC. 74 percent of engagements have a CSP focus or relate in some way to communications service.
Existing IP communications networks must be extended. 67 percent need to connect existing networks with WebRTC where PowerMedia XMS provides media interworking.
WebRTC is a global phenomenon. 62 percent of Dialogic's WebRTC engagements are international, with representation in all global regions, notably with pockets of activity in Latin America and the Middle East.
Video telephony is the leading application. 65 percent were most interested in PowerMedia XMS's video capabilities, with nearly half interested in providing multi-party conferencing features.
"In the past year, we have seen a tremendous increase in interest for WebRTC and growing traction for our server-side media processing solutions," said Kevin Cook, president and CEO of Dialogic. "As WebRTC matures beyond an interesting technology to a business-useful one, our PowerMedia XMS media server is providing sophisticated, production-ready applications and services from the doctor's office to financial trading floors."
Dialogic's customers form an ecosystem of companies harnessing the power of real-time communications. Dialogic's PowerMedia XMS partner program now includes more than a dozen that specifically support WebRTC solutions. These partners transcend industry boundaries, leveraging PowerMedia XMS and WebRTC technology for a wide variety of applications and services across traditional telcos, alternative IP communications providers, emerging web companies, call centers and enterprise verticals.
One of the newest WebRTC ecosystem partner program members, SPAN Systems, provides unified communications solutions that streamline healthcare technology and improve doctor-provider-patient coordination while decreasing costs.
"WebRTC will soon be a household capability for telemedicine due to the ease with which healthcare providers can connect patients using contextual information. Doctors and patients will benefit from immediate collaboration to deliver a higher quality of care that actually reduces medical expenditures," said Matt Semenza, vice president of business development of SPAN Systems. "Dialogic's PowerMedia XMS provides critical server-side media processing capabilities including multi-party conferencing and recording that power our remote video consultation and patient monitoring applications."
Hear Kevin Cook discuss how WebRTC will change the way we communicate during his keynote at the WebRTC Conference & Expo at 12:40 p.m. EDT on June 17, 2014 in Atlanta. You can also set up a meeting to discuss WebRTC applications with Dialogic.
Additional resources:
About Dialogic:
Dialogic, the Network Fuel® company, inspires the world's leading service providers and application developers to elevate the performance of media-rich communications across the most advanced networks. We boost the reliability of any-to-any network connections, supercharge the impact of applications and amplify the capacity of congested networks. Forty-eight of the world's top 50 mobile operators and nearly 3,000 application developers rely on Dialogic to redefine the possible and exceed user expectations. Follow us on Twitter @Dialogic.
For more information on Dialogic and communications solutions energized by our technology, visit http://www.dialogic.com and http://www.dialogic.com/showcase. Also, visit our social media newsroom for the latest news, videos and blog posts.
Dialogic, PowerMedia and Network Fuel are either registered trademarks or trademarks of Dialogic Inc. or a subsidiary thereof ("Dialogic"). Other trademarks mentioned and/or marked herein belong to their respective owners.