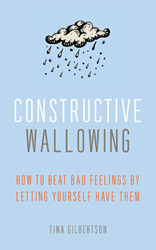 'Tina Gilbertson offers a practical and effective alternative to kicking yourself when you're down.' — Natural Awakenings
(PRWEB) June 16, 2014
In Constructive Wallowing: How to Beat Bad Feelings By Letting Yourself Have Them (Viva Editions 2014) by Psychotherapist Tina Gilbertson, Tina describes the counterintuitive but powerful truth about how difficult feelings can lead to greater happiness. Wallowing constructively is not a just a skill but a lifestyle, one that Gilbertson demonstrates in her new book.
Gilbertson recently appeared on Portland's AM Northwest to discuss ways viewers can start using constructive wallowing in their own lives. "Society tells us to put on a happy face whenever we feel blue. The result is, we end up ignoring what's true—and avoiding our actual experience. Has something bad happened? Did someone say or do something that hurts when you think about it? Instead of turning away from the pain, try turning toward it."
See Tina Gilbertson in person at these upcoming events:
6/19: Village Books, Bellingham, WA - 7pm
6/21: North Vancouver City Library, North Vancouver - 2-3pm
6/23: Capilano Library, North Vancouver - 7pm
6/24: Third Place Books, Lake Forest Park, WA - 7pm
6/25: Barnes & Noble Downtown Seattle, WA - 3-5pm
6/26: University Bookstore, Seattle, WA - 7pm
6/29: Eagle Harbor Books, Bainbridge Island, WA - 3pm
Psychotherapist Tina Gilbertson, LPC, is a former actress with credits that include TV's "The X-Files." She counsels individuals and adults and teaches personal growth classes in Portland, Oregon.