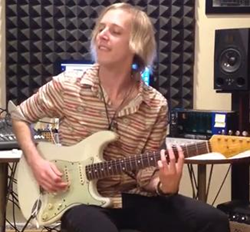 (PRWEB) June 14, 2014
Stormy Monday was originally recorded by T Bone Walker but the version Jon teaches in this lesson is the Allman Brothers version. MacLennan demonstrates the song as follows; first he plays the root note, G, with his thumb on the 3rd fret of the 6th string which he strums twice. Next, he frets the 3rd fret of the 4th string with his 2nd finger, 2nd fret of the 3rd string with his first finger, and 3rd fret of the 2nd string with his 3rd finger which he strums once and slides the chord shape up one whole step and then back down. "That's basically a G9 chord," says MacLennan. Next, he moves the whole shape up to the 8th fret, C, and repeats the sequence and then moves up to the 10th fret, D, and repeats the sequence again. Finally, Jon plays the whole chord progression. Guitar tabs are available for this blues lesson at GuitarControl.com.
The Allman Brothers band is an American blues/rock band formed in Jacksonville Florida in 1969 by brothers Duane and Gregg Allman. The band had its commercial breakthrough in 1971 with the release of there album At Fillmore East and then peaked commercially in 1973 with the album Brothers and Sisters. The band was awarded 11 Gold and 5 Platinum albums between 1971 and 2005 and was inducted into the Rock and Roll Hall of Fame in 1995.
Jon MacLennan
Los Angeles-based guitarist Jon MacLennan began his career at the age of 16 and is one of the busiest upcoming session guitarist, artist, composer, producer, and professional educator in LA. Jon has done session work for Julian Lennon, Steven Tyler, and British pop star Jamie Cullum. He has appeared on Disney channels "The Suite Life of Zack and Cody" and on the sound track to the movie "Marley and Me 2 – The Puppy Years." MacLennan earned a bachelor's in ethnomusicology and jazz guitar studies from University of California, Los Angeles, and has been mentored by Carl Verheyen, Wolf Marshall, Kenny Burrell, Anthony Wilson, Tamir Hendelmen, Jimmy Wyble and Ron Anthony which has made him a highly sought after guitar instructor today.
About GuitarControl.com
GuitarControl.com is the leader in modern guitar instruction. It's packed with resources including articles, video lessons, and the best videos in the business for the beginner to the advanced guitar student taught by the best instructors out there. Weather you are into the blues, rock, jazz, metal, folk, or anything in between, they have you covered.