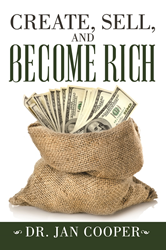 (PRWEB) June 16, 2014
Despite the title, Create, Sell, and Become Rich is not about establishing a million-dollar business but maximizing one's abilities. In his book, Dr. Jan Cooper discusses the key elements to achieving one's full potential and how to utilize one's skills to pave the way to success.
A self-made man in his own right, Dr. Jan Cooper worked as a teacher for more than thirty years before he retired to focus on helping others accomplish their goals in the same way he did. In his book, he unveils the "Success Equation," which he describes as "a guaranteed formula for achieving your dreams."
According to Dr. Jan Cooper, "The true secret formula or equation to success, whether you be a businessman, artist, author, or scientist, is that each of these individuals have a sense of purpose and live their dream. The people who live their dream have a productive and happy life. They also work on themselves daily and continually strive for improvement in every aspect of their lives. These habits are powerful tools that were developed one baby step at a time."
Create, Sell, and Become Rich is now available on major retailers including Amazon, Barnes & Noble, and Kobobooks. Hardcover and paperback versions can also be purchased from lulu.com. For more information about the book and the author, please visit the author's official website at http://www.createsellandbecomerich.com.