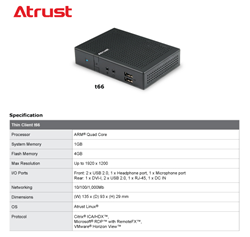 Taipei, Taiwan (PRWEB) June 19, 2014
Atrust introduces t66, a Linux-based thin client that brings user a cost-effective solution with multimedia acceleration experience. Atrust t66 leverages Freescale ARM® quad core processor, which allows a low level of power consumption. Atrust t66 runs Atrust Linux OS and is managed by Atrust device management tool (ADM). t66 was designed to be the enterprise thin client and optimized with Citrix® ICA/HDX™, Microsoft® RDP™ with RemoteFX™ and VMware® Horizon View™ environment. It can easily adapt into various solutions and servers and provides the outstanding performance for enterprise customers.
Atrust t66 provides single display with one DVI-I port, up to 1920 x 1200 resolutions, remote connection and fluent desktop experience. It is equipped with four USB ports connectivity, supporting commonly used peripherals. The durable and dependable design with no fan and moving parts creates noiseless environment and minimal heat.
Like other Atrust t-series clients, the t66 has Atrust Client Setup (ACS) software built-in, a local client management console to help user effective management of it. With Atrust Device Manager (ADM), IT staff can set up one profile on ADM and apply to all thin clients. The management becomes simple and easy. All data are centrally controlled and securely stored on the server, which increases security and lowers the budget for IT management.
The dimension of the t66 is (W) 135 x (D) 93 x (H) 29 mm and weighs approximately 278g; the compact and lightweight design keeps desktop space usage to a minimum. Flexible mounting option can let you position it behind a monitor. The efficient and quiet aspect of its design creates a professional workplace that can be applied to various scenarios. For more information, please contact Atrust sales at sales(at)atrustcorp(dot)com
About Atrust:
Established in 2007, Atrust is a creative, professional, and enthusiastic team which has rich experience in designing, producing Thin Client, Zero Client, Server and Management Software. The objectives of Atrust are to provide customers with high quality, high efficiency and environmental friendly products as well as comprehensive solutions. More information on Atrust is available on http://www.atrustcorp.com.