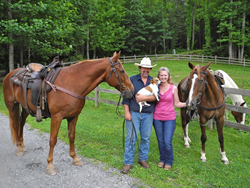 Balsam Mountain Preserve's New Equestrian Director
Asheville, North Carolina (PRWEB) June 17, 2014
Florida's 1989 High Point Barrel Peewee Champion has saddled up with Balsam Mountain Preserve as its new Equestrian Director. Smathers and her husband Johnny have been around horses all their lives formally managing Deep Creek Riding Stables in Great Smoky Mountain National Park for 13 years, a 48 horse facility open to the public 7 days a week during the season. Smather's equine journey begin in her mothers womb, her mother an avid horse lover who found it hard to let a day go by without riding her horse. At eleven years old, Smathers won her first trophy for barrel racing and retained the time record for more than 20 years in the state of Florida.
Last month, Real Estate Scorecard accompanied Johnny Smathers and his assistant wrangler aboard Hershey's Kiss and Jolly Rancher, two friendly Tennessee Walkers for a half day trail ride. Balsam Mountain Preserve is an award winning gated equestrian community in the mountains of Western North Carolina with more than 30 miles of gentle horse trails. The forested paths took them over bubbling mountain creeks, through valleys and caverns and beside cascading waterfalls with birds cooing in the background. Tennessee Walkers are the collection of club horses now boarded at the Balsam Mountain Preserve Equestrian Center. The horses are known as mild manned, soft spirited horses and according to Smathers, perfect for riders of all skill levels.
Balsam recently opened the equestrian center to those searching for Asheville real estate on Mondays and Tuesdays for scheduled trail rides with the Smathers to introduce folks to Balsam. Summer horse camps just began and include comprehensive lessons in horse care, riding techniques, overnight horseback camp outs along with adventurous trail rides down to the beautiful Dark Ridge Camp.
BALSAM MOUNTAIN PRESERVE EQUESTRIAN AMENITIES
30 Miles of Gravel and Groomed Horse Trails
Full Boarding Services
14 Stall Barn with all the bells and whistles
12 Paddocks and Training Arena
Real Estate Scorecard talked with Terri May, owner of several Arabian show horses and new property owner at Balsam. The May's purchased one of several equestrian lots in the gated equestrian community. After five years of research, May said, "Balsam Mountain Preserve is one of the nicest gated communities we've seen with user friendly equestrian amenities." She felt the designer of the facility built it "with horses in mind". A barn owner and operator herself, she will be the first property owner to board her Arabian show horses year round at Balsam Mountain Preserve. She said, "our horses will be happier being in one place and frankly, we love Balsam too". Her criteria when searching for Asheville real estate included being less than one hour from Asheville. They searched everywhere in the southeast and didn't want to risk buying in a gated community with "promised equestrian amenities". The land parcel the May's chose is relatively flat for mountain property and is adjacent to the equestrian center. They plan to build a connecting gate to access the paddocks and training arena. Celebrity Andie MacDowell an avid horse woman also chose Balsam Mountain Preserve for their superior equestrian amenities.
Take a peek at Balsam Mountain Preserve homes.
Balsam Mountain Preserve won Real Estate Scorecard's 2012 Bliss Award for Best Equestrian Community of the Year. Until you explore the mountain community by horse or by foot, it's hard to appreciate the richness of the surroundings and national-park like setting spread across of 4,400 acres. What's amazing is only 400 families will have the privilege of calling Balsam home. More amenities include a rustic-style lodge/restaurant called the Boarding House with exquisite cuisine, an unforgettable Arnold Palmer Signature Design mountain golf course and the Ruby Valley Sports Complex with a fitness center and outdoor resort-style swimming pool.
Buyers searching for Asheville real estate at gated equestrian communities would be wise to take a look at Balsam while equestrian sized lots are still available. Whether folks own a horse today or would like to test ride the equine experience, Balsam Mountain Preserve and the Smathers' team are ready to exceed people's expectations. Schedule a long weekend now while the weather is perfect.
To check on Discovery Package availability in one of their luxurious Boarding Cabins, call Balsam Mountain Preserve direct at 866.452.3456.
About Real Estate Scorecard:
Real Estate Scorecard writes unbiased real estate reviews providing in-depth information about popular gated communities in Florida, Georgia, North Carolina, South Carolina and Tennessee, all in an effort to help people discover where to retire in the Southeast.
Website: http://realestatescorecard.com