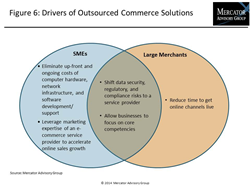 Competition among gateway providers has intensified and will continue to increase as firms strive to capture their share of the global e-commerce pie.
Boston, MA (PRWEB) June 17, 2014
Global smartphone adoption continues to support the proliferation of electronic commerce throughout the daily lives of consumers around the world. Virtually any product can be purchased from a mobile device, taxis ordered and fares paid, hotel and dinner reservations made. Much of this progress would not be possible without innovative payment gateway software. Noted for easy-to-integrate application programming interfaces, prebuilt and configurable checkout pages, fast or even instant merchant account approval, and support for an impressive number of payment types and currencies, gateway providers deserve much of the credit for enabling e-commerce in new scenarios.
Mercator Advisory Group's most recent Research Report, Payment Gateways Unlock Global E-Commerce Opportunities, examines the competitive landscape for e-commerce gateway services, reviews emerging product functionality and business models, and highlights particular functionality from several provider's solutions to illustrate the range of services in the market.
"E-commerce is one of fastest growing segments as well as one of the largest potential opportunities in the payments industry," comments Michael Misasi, senior analyst at Mercator Advisory Group and author of the report. "Competition among gateway providers has intensified and will continue to increase as firms strive to capture their share of the global e-commerce pie."
Highlights of this Research Report include:

Introduction to 15 innovative payment gateway providers and various business models
Analysis of the standard and emerging payment gateway functionality such as fraud detection, global reach, reporting and analytics, and mobile optimization
Projected global e-commerce spend volume
Estimated and projected shares of global e-commerce spend by geographic regions
Estimated share of e-commerce spend by payment type for major geographic regions
This report contains 21 pages and 12 exhibits.
Companies mentioned in this report include: 2Checkout, Adyen, Authorize.Net, Beanstream, BlueSnap, Braintree, Chase Paymentech, CyberSource, DataCash, Forte, Litle Paymentech, Paymill, PayPal, Simplify Commerce, Stripe.
Members of Mercator Advisory Group's Credit Advisory Service and Emerging Technologies Advisory Service have access to this report as well as the upcoming research for the year ahead, presentations, analyst access, and other membership benefits.
For more information and media inquiries, please call Mercator Advisory Group's main line: (781) 419-1700.
For free industry news, opinions, research, company information and more visit us at http://www.PaymentsJournal.com.
Follow us on Twitter @ http://twitter.com/MercatorAdvisor.
About Mercator Advisory Group
Mercator Advisory Group is the leading independent research and advisory services firm exclusively focused on the payments and banking industries. We deliver pragmatic and timely research and advice designed to help our clients uncover the most lucrative opportunities to maximize revenue growth and contain costs. Our clients range from the world's largest payment issuers, acquirers, processors, merchants and associations to leading technology providers and investors. Mercator Advisory Group is also the publisher of the online payments and banking news and information portal PaymentsJournal.com.