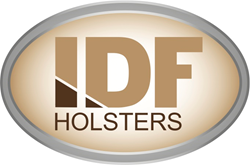 The cut and design of these holsters are the result of years of experience.
Farmingdale, NY (PRWEB) June 17, 2014
Designed to satisfy any shooter's possible need, IDFholsters.com has recently launched online. The site was developed in partnership with Front Line, the official holster supplier of Israel's military and law enforcement.
With its factory-direct approach, IDFholsters.com offers exceptional values to consumers because it eliminates retail mark-ups or additional distributor fees. Working with the Israeli Police Force, Front Line has developed and refined the most effective holster designs and materials. Shoppers will find holsters in a variety of carry options with materials ranging from Kydex® and leather to polymer, Kydex® New Generation (KNG), as well as unique combinations of materials including Cordura®, molded PVC and polyethylene. Every major gun make and model has a holster specifically designed for it.
Navigating by handgun model or material and style makes it easy to browse the ever-expanding inventory of over 3,000 models. State-of-the-art inventory controls allow for easy purchase and prompt delivery. The site will eventually include tactical equipment and weapon accessories from leading manufacturers who recognize the value in selling directly to consumers.
"The cut and design of these holsters are the result of years of experience," said Shmuel Shachar, Front Line's CEO. "These holsters have been tested and approved by the professionals they were designed for—Israeli soldiers, special ops units and professional law enforcement. You may never breach a building to rescue hostages or infiltrate terrorist cells under deep cover, but you can rest assured that your holster has performed admirably in those situations. We are excited to offer people the convenience of one-stop shopping, along with great values," Shachar said.
To celebrate the launch, consumers are invited to take 20% off the entire IDFholsters.com selection for a limited time. Use Promo Code IDFCCW at checkout to apply the discount.
About Front Line Holsters
Headquartered in Israel, Front Line manufactures a premier range of products—continually upgraded on the basis of combat experience—to meet the stringent requirements of Special Operations units, Secret Service and the Israeli Defense Forces. Since 1961, several generations of Israeli soldiers, Special Operations troops, law enforcement personnel and civilians have used and trusted Front Line Holsters—among the finest in the world.
Contact
To learn more about this website launch, please contact:
Mark Torres
mark(dot)torres(at)themakogroup(dot)com
(631) 880-3396 ext. 310
The Mako Group
170-20 Central Avenue
Farmingdale, NY 11735