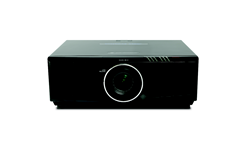 Las Vegas, NV (PRWEB) June 18, 2014
ASK Proxima, manufacturer of high-performance LCD and DLP® projection displays, launches the E3000 Series of dual-lamp large venue projectors with the E3815 and the E3715W. With the E3000 Series, ASK Proxima delivers a DLP®-based performance and installation solution for specialty design applications.
The E3815 and the E3715W are full-featured projectors, with a dual-lamp optical engines, ensuring 24x7 continuous operation with automatic lamp switching. The E3000 Series offers 360-degree projection, allowing the E3815 and the E3715W to project in any orientation, providing unlimited installation options, for even the most difficult or specialty applications. The automatic focus function combined with built-in edge-blending technology in both projectors deliver seamless presentation and perfectly matched images.
"With the E3000 Series, there are pretty much no restrictions with what a projector can do," said Sam Malik, vice president and general manager of ASK Proxima. "The E3815 and the E3715W are dual-lamp, high brightness projectors. But with these ASK Proxima models, additional software and hardware are no longer necessary, as edge-blending technology and network controls are already built into the product. Add that to the 360-degree projection functionality, the E3815 and the E3715W are pretty much the perfect installation projectors."
E3000 Series Key Features:

8100 lumens (E3815) and 7100 lumens (E3715W); 6,000:1 contrast ratio
Native XGA (1024x768 – E3815); Native WXGA (1280x800 – E3715W)
I/O: HDMI, DVI, BNC, VGA, YPbPr, S-Video, USB, Mini-Jack, RJ45, 12-Volt Trigger and RS232
Dual-lamp optical engine; Automatic focus
The E3000 Series starts shipping in July 2014, and will be available for an MSRP of $7599.00(USD). For more information about ASK Proxima and its projector products, follow on Facebook, YouTube, Twitter and Instagram.
About ASK Proxima
ASK Proxima is a legacy brand in digital video technology. The company manufactures a full line of high-performance LCD and DLP® projection displays. ASK Promixa's wide range of products include short- and ultra-short throw, business and large venue projection models for business, education and installation applications. Make an impact with powerful impressions and effective solutions. For more information, visit http://www.askproximausa.com.
# # #