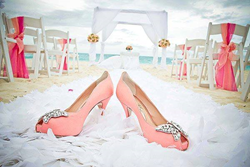 Sensational weddings can cost a fortune (Kim and Kanye's wedding was estimated at $2.8 million)....Thankfully Caribbean weddings are a lot less.
Miami, Florida (PRWEB) June 18, 2014
Whether eloping or planning a grand celebration, AskMeInc offers five destination wedding packages, starting as low as $1500, from resorts in the Caribbean and Mexico including Occidental Resorts, Paradisus Resorts, Calabash Cove, The Landings and Coconut Bay.
"Sensational weddings can cost a fortune as seen with Kim and Kanye's wedding, which is estimated at $2.8 million, and even with William and Kate's wedding, which was said to cost $34 million," said Hilary Lanzer, Managing Partner of AskMeInc, "Thankfully Caribbean weddings cost a lot less!"
Helping lovebirds say "I Do" at stunning locations in Mexico and the Caribbean, the destination wedding professionals at AskMeInc work directly with couples as they plan their destination wedding. These destination wedding packages, popular among couples who have used AskMeInc's services, allow couples to exchange vows in stunning locations with simple or sensational ceremonies any time of the year.
Sensational Destination Wedding Packages
o The Tailor Made Wedding package at Paradisus Resorts starts at $10,000 and includes an Open Bar BBQ the day before the wedding to welcome guests; the wedding day with all the details; and then a special spa day after the wedding for the newlyweds.
o The Landing's St. Lucia offers the Iconic wedding package, priced at $439 per person, which includes a welcome reception and a brunch the morning after the wedding ceremony, a perfect response to the desire of couples wanting to have more events during their destination wedding. The wedding package also includes a bottle of Veuve Cliquot champagne in your room upon arrival, a romantic turn-down with candles and flower petals, a welcome reception, Marriage Officiant assistance and legal documents, a wedding reception (with Moet champagne, passed Hors d'oeuvres, a four course sit-down dinner, wedding cake and more); and a post-wedding brunch. For more information, visit http://www.thelandingsstlucia.com/.
o Occidental Resorts in the Riviera Maya region of Mexico and on the island of Cozumel offer a Mayan Wedding, a true cultural wedding which follows Mayan ceremonial traditions. Led by a Shaman, the Mayan Wedding includes a 30-minute ceremony, directed in the original Mayan language, with bracelets and crowns of flowers, the smoke of the copal offering, music composed by songs, flute, sonaja, drums and sea shells and more special elements. The Mayan Wedding packages starts at $2464. http://www.occidentalweddings.com
Simple Destination Wedding Packages
"Simple can often be more elegant and glamorous than a million dollar wedding," said Hilary Lanzer, "Just think of John Kennedy's and Carolyn Bissette's wedding which was so simple and breathtaking at the same time. The Caribbean and Mexico offer many simple and elegant settings."
o Coconut Bay Beach Resort, located on 85-acres on the south coast of St Lucia offers four wedding packages from free to fabulous. Coconut Bay Beach Resorts most decadent wedding package, complete with a wedding cake, breakfast in bed, a couples massage, live steel band, a cocktail reception, private dinner, island tour and much more is still just $3575. http://cbayresort.com/weddings/wedding-packages
o Paradisus Playa Del Carmen, a beachfront all-inclusive resort on the Caribbean Coast of Mexico, offers the 'Fantasy' wedding package at just $1600. The 'Fantasy' wedding package includes the ceremony, bouquet and boutonnière, a post-ceremony cocktail party, rose petal turndown service the night of the wedding as well as special amenities for the wedding couple. For more information visit http://www.paradisus.com/romance-overview.php.
o Also located in St. Lucia, Calabash Cove, a five star boutique hotel and spa, offering stunning villas and suites, all with breathtaking Caribbean ocean views, offers the perfect destination wedding four couples wanting to elope. The $1500 wedding package at Calabash Cove includes the ceremony, Marriage officer, licensee, registrar fees and certificate; a bouquet and boutonniere made from local tropical flowers; wedding cake and champagne; dinner for two as well breakfast in bed with champagne for the morning after the wedding. Couples can now register with Calabash Cove's new honeymoon registry program, allowing friends and family to buy the couple gifts including room upgrades, wine, massages and more. For more information, visit http://calabashcove.com/.
AskMeInc is a Miami based firm focused on providing hotels and resorts in the Caribbean and Mexico with hospitality solutions. The company's turn-key systems offer professional representation, virtual call center services and grassroots marketing to maximize revenue and enhance visibility. AskMeInc has a division that specializes in destination weddings and romance travel. For more information visit http://www.AskMeInc.com.