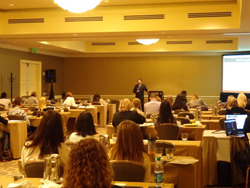 The local search landscape is constantly evolving with new products and programs from Google and other key players
Solana Beach, CA (PRWEB) June 18, 2014
Timour Haider, Managing Director of Aesthetic Brand Marketing Inc. (ABM) joins the faculty of the 10th Annual Vegas Cosmetic Surgery & Aesthetic Dermatology meeting and symposium. The meeting will take place from June 18th – June 22nd, 2014 at the Bellagio Hotel and Resort in Las Vegas, NV.
Vegas Cosmetic Surgery has asked ABM's founder Timour Haider to lecture member physicians on the latest trends in search engine advertising, positioning and brand building. Timour is scheduled to present on Saturday June 21st, 2014.
Aesthetic Brand Marketing Exhibits at Vegas Cosmetic Surgery 2014
In addition to ABM's founder being invited to join the faculty of the Vegas Cosmetic Surgery 2014 10th annual multi-specialty symposium, ABM will also be exhibiting in the exhibit hall and providing member surgeons a custom and detailed marketing analysis. Attendees will have the opportunity to have their marketing, branding and web efforts analyzed by our expert team of aesthetic marketing professionals.
Google Announces Major Changes With Local Business Products
Google has recently announced a complete overhaul of their 'local' products effectively getting rid of Google+ Local and Google places in favor of the new 'Google My Business'. According to Google, "Google My Business is the fast and easy way for businesses, products, brands, artists, and organizations to manage their online presence with Google."
ABM is excited to discuss these changes with all attendees and demonstrate how to use the new interface. ABM's founder Timour Haider comments that, "The local search landscape is constantly evolving with new products and programs from Google and other key players." ABM can help you clarify the best local search strategy for your practice.
Visit ABM's Booth # 424 In The Exhibit Hall
Stop by for a complimentary marketing evaluation by one of our trained consultants. There is never any obligation and we're always happy to answer any marketing questions you may have regarding Google's new local programs or anything else.
About Aesthetic Brand Marketing Inc.
Aesthetic Brand Marketing Inc. is a boutique medical marketing agency with distinct expertise in servicing the elective health care industry. We specialize in custom tailored website marketing solutions designed to drive new potential patient inquiries. ABM's unique blend of internet consulting, search engine and social media marketing, interactive expertise & digital PR generate strong returns for our clients.
About Vegas Cosmetic Surgery
Vegas Cosmetic Surgery was initiated to foster a spirit of cooperation and understanding between the four "core" specialties that are primarily involved in the science, practice and teaching of aesthetic surgery and medicine. This Symposium is proud to host the leading educators and teachers in the fields of facial plastic surgery, plastic surgery, dermatology and oculoplastic surgery.