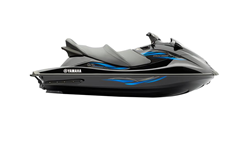 Yamaha has been making quality machines for decades, and the VX Series merely continues their tradition of matching high-performing machines with reasonable prices. Per John Leach
(PRWEB) June 17, 2014
Pete's Cycle is proud to announce that they will be carrying the all-new 2014 Yamaha VX Series Waverunners. According to Yamaha, it is their "most affordable, high-performance watercraft today."
"These are some excellent machines, and really show why Yamaha is a top producer of waverunners," says John Leach of Pete's Cycles of Maryland, a top seller of motorcyles, atvs and waverunners. "Yamaha has been making quality machines for decades, and the VX Series merely continues their tradition of matching high-performing machines with reasonable prices."
While summer is the time for scenic motorcycle cruises through the mountains and valleys, it is also the time for water sport as well. Whether you are on the bay or on the ocean, a waverunner is without question the most fun way of getting around on the water. Even more, waverunners are strong enough to pull water skiers behind them, which makes them perfect for anyone with a home on the water.
Pete's Cycles will be selling all three models, the VX Cruiser, Deluxe and Sport. Let's start with the Cruiser. Seating one to three persons, it has an 18.5 fuel capacity and its engine is a 4-cylinder, 4-stroke, 1.8 L High Output Yamaha Marine Engine. It can come in Black Metallic or Crimson Red Metallic. Yamaha has also gone to great lengths to make the machine lighter, hence their introduction of NanoXcel, which has allowed them to drop the weight of the machine significantly from previous years.
But what about its ride? According to BoatTest, "The ride of the VX Cruiser is smooth and controlled with plenty of kick off the line. Turns are precise and forgiving. For that reason it's hard to get in trouble. The hull throws the spray low and out to the sides, even in wind. At speed the ride is firm and not loose in any way." See also Boating Magazine's video review here.
Pete's Cycle will also be carrying the Sport and Deluxe versions as well. Pete's Cycle has three locations—Baltimore, Bel Air and Severna Park—and welcomes you to stop by and see the 2014 Yamaha VX Series.