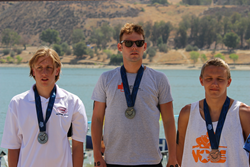 Raleigh, NC (PRWEB) June 17, 2014
Former open water world champion, Alex Meyer, won the USA Swimming 5K Open Water National Championship today at Castaic Lake, California.
Meyer, who tied for third in the event's 10K race on Friday qualifying him for the 2014 Pan Pacific Games, commented after his victory that "the tactics and timing of the final kick were critical to hitting the finish at the right time."
A 2012 Olympian, Alex trains on the professional swim team sponsored by Raleigh, North Carolina wearable technology company SEAL Innovation, Inc. "I could not be more pleased with Alex's performance during this competition," said John Payne, SEAL Innovation Team coach. "The open water field has become deeper each year and Alex had fast, tough races throughout this weekend. His results reflect his work ethic and desire to succeed," Payne added.
Additionally, SEAL Innovation team member Ashley Twichell qualified for the U.S. Open Water National team with a sixth place finish in the Women's 10K event.
Alex, Ashley and their SEAL training teammates Charlie Houchin and Chloe Sutton have their sights set on qualifying for the 2016 Olympics. Learn more about the athletes or follow their Twitter feed at their new website http://www.sealinnovationteam.com.
About SEAL Innovation, Inc.
Creating an outstanding swimming experience with innovative wearable technologies to increase confidence and enhance safety, enjoyment and performance defines SEAL Innovation, Inc. The company created SEAL SwimSafe™ for swimmers of all ages. If it detects a swimmer in potential distress, the SEAL band worn by the swimmer triggers a high intensity visible, audible, and vibrating alarm so that rescue can begin quickly. The SEAL SwimSafe™ was designed to complement and improve parental and lifeguard vigilance; learning to swim; and facility safety design and management.
###