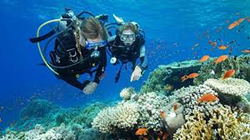 This is a typical designed trip for travelers, who love scuba diving, fishing and sunbathing.
Hanoi, Vietnam (PRWEB) June 17, 2014
The coastal city of Nha Trang in Khanh Hoa province, Central Vietnam, lies on the trans-Vietnam highway, 1,278km from Hanoi, and 448km from Ho Chi Minh City. It has become a must- visit destination for every traveler when they come to Vietnam. On June 16th Smile Travel Vietnam, a premier local travel agent in Vietnam, presented a special trip in Nha Trang city.
Nha Trang is endowed by nature with deep, quiet and warm waters all year round, surrounded by archipelagos, islands, mountains and white sand beaches - a wonderful and attractive tourist resort. "Joining our Nha Trang one day tours, tourists are ensured to get a full look at beauty of the most outstanding landscapes, enjoy fresh seafood dishes and observe the peaceful but dynamic life of the locals," said the Chief Executive. For just $39 USD/ person, tourists will have chance to take part in one day tour. "This is a typical designed trip for travelers, who love scuba diving, fishing and sunbathing" added he.
Here is the itinerary:
The full day trip in Nha Trang will start at around 8:00. The tourists will be picked up at their hotel by a driver and an English speaking tour guide. Then, travelers will arrive at Cau Da Port and take a boat to visit Hon Mun and Hon Mot Island. Those islands have perfect conditions for relaxing, swimming, fishing, scuba diving and sunbathing.
By noon, visitors will have a lunch on boat and continue beach relaxation. Then head to Tri Nguyen Fish Farm for a short visit before cruising back to Cau Da Port and visiting the Oceanographic Institute. The trip ends at around 16:30.
So, if you are attracted by this coastal city, book this Nha Trang tour quickly and explore Nha Trang, play outdoor games, take some photos, relax and travelers will have unforgettable memories!
Please contact for more details via sales(at)smiletravelvietnam(dot)com or call +84.976.127.023.
About Smile Travel Vietnam:
Smile Travel Vietnam Company was established in 2008. With more than 6 year experience in travel industry, the company has been recognized as one of the most reputable companies in Hanoi, Vietnam by most international visitors using the company's services. Customers of Smile Travel Vietnam Company are always satisfied with the quick, secure and cheap services including visas, airfares, hotel bookings and tours.