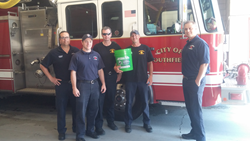 We knew that we did not want to throw the old batteries in the trash but never had a proper way to dispose of them.
Madison Heights, MI (PRWEB) June 17, 2014
Detroit area based Battery Giant has announced that it has agreements in place with franchisees to open stores in 3 new markets, including: Orlando, Florida; Denver, Colorado; and East Lansing, Michigan later this year. Battery Giant has seen great success in franchise development in the past few months, in part to the focus that they have put on the battery recycling effort in the local community.
Utilizing the Detroit area as a test market, Battery Giant began distributing buckets for the collection of used batteries to local businesses surrounding the stores. The response has been tremendous, with most businesses and groups welcoming the opportunity to dispose of their used batteries in a proper manner. "We knew that we did not want to throw the old batteries in the trash but never had a proper way to dispose of them. The Battery Giant green bucket recycling program gives us a method to make sure that the old batteries are disposed of correctly," stated Jim Dundas of the Southfield, MI Fire Department.
The excitement of the recycling program, in addition to the move to a newly renovated 110,000 sq. ft. corporate headquarters, training facility and warehouse has driven increased interest in the battery store franchising opportunity. "Great things are happening at Battery Giant," said Greg Danziger, President. "The battery distribution industry is an $88 billion business, and the market is continually growing. Additionally, the green movement of battery recycling is another profitable revenue stream for the business."
The growth of the Battery Giant model into 3 new markets, as well as the opening of additional stores in the Dallas, TX and Chicago, IL areas is helping to expand the footprint of the services that Battery Giant has to offer. They are enabling people in additional communities to have access to proper free battery recycling, and are providing many additional products and services at the Battery Giant store locations.
About Battery Giant
Headquartered in Madison Heights, Michigan, Battery Giant currently operates 20 franchised retail locations in Michigan, Ohio, Illinois, Arizona, Florida, Arkansas, Texas, Panama, Pennsylvania, Puerto Rico and Mexico. Battery Giant is a multiple revenue stream franchised store, offering retail battery sales, business to business sales, tech center services and battery recycling. For more information about Battery Giant, battery recycling, green power solutions, or franchise opportunities, visit their website at http://www.batterygiant.com, or contact Greg Danziger, President, at 248-414-1884.