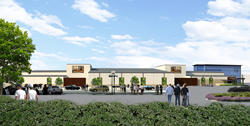 Whirlwind has been doing business in Houston for over fifty years, we look forward to continuing the tradition of contributing to Houston's landscape
Houston, Texas (PRWEB) June 18, 2014
Whirlwind Steel Buildings, an industry-leading steel building manufacturer and distributor, has partnered with Gallery Furniture on their latest store. Whirlwind will work with the major furniture retailer to manufacture the steel for the retailer's newest, largest store located at The Market in Longmeadow Farms in Richmond, TX, a suburb between Katy and Sugarland.
"We're excited to partner with what we consider to be an iconic business in Houston," said Ty Sturdivant, President at Whirlwind Steel Buildings Inc. "Whirlwind has been doing business in Houston for over fifty years, we look forward to continuing the tradition of contributing to Houston's landscape."
Groundbreaking for the new facility took place on June 3, 2014 and construction is expected to be completed by the end of the year. This will be the largest of Gallery Furniture's Houston stores at 165,000 square feet and will be known as Gallery Furniture Grand Parkway. Plans include an indoor playground with a treehouse as well as a full service restaurant.
About Whirlwind Steel Buildings, Inc.
Whirlwind Steel Buildings, Inc., in business for nearly 60 years, is one of the largest metal building manufacturers in the industry. Products include metal building systems, metal building components, and solar energy systems. The manufacturing facilities located in Texas, Georgia, and Oklahoma are certified by the American Institute of Steel Construction (AISC). They have a fourth facility in Minnesota.
we look forward to continue the tradition of contributing to Houston's landscape.