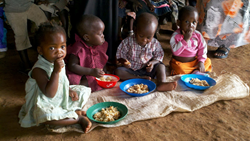 Raleigh, NC (PRWEB) June 18, 2014
How do some of the Triangle's best chefs have fun for a good cause? They form the "traveling circus" to put on events at area restaurants. The host restaurant selects their favorite charity. They will meet at Plates Kitchen on June 22, 2014, to prepare a memorable, multi-course meal with paired wines & beers to support a favorite charity. This summer's event includes live jazz music to round out the dining experience at the restaurant located at 301 Glenwood Avenue in Raleigh, NC, with proceeds donated to Stop Hunger Now to support their mission to end world hunger.
"This is a continuation of the partnership between Plates Kitchen and Stop Hunger Now," said Rod Brooks, President and CEO of Stop Hunger Now. "Thanks to the generosity of these chefs of the 'Traveling Circus', we will be able to stretch our resources even further and save more lives."
Event chefs include Steve Day and Sam Bradford of Plates Kitchen; Scott James, formerly with Midtown Grille and now a culinary free agent; Daniel Benjamin of soon-to-open patisserie lucette grace and former head pastry chef of The Umstead Hotel & Spa; Jon Blackley of Bocci in Durham; and David Gaydeski, executive chef at the NC governor's mansion. Founding member Michael Lee of Sono is expected to make a late appearance.
Dinner will be served from 6 pm to 9 pm at Plates Kitchen and seating is limited to 40 people at $60.00/person, including tax & tip. Reservations are required and can be made by Calling Plates at 919-828-0018
Last year, Stop Hunger Now domestic operations and international affiliates packaged 41.9 million meals that were distributed to 27 countries. Stop Hunger Now distributes its meals through feeding programs operated by partner organizations in developing countries which promote education, encourage children to attend school, improve the health and nutrition of students, address gender inequalities, spur economic growth, combat child labor, and create a platform for tackling global issues. In addition to supporting school feeding programs, Stop Hunger Now also provides meals in response to crisis relief.
Stop Hunger Now meals are packaged through popular community-supported meal packaging programs, that often are part of corporate responsibility or volunteer service projects.
About Plates Neighborhood Kitchen
Over the last 20 years, Stephen and Kate Day have lived and traveled around the world and are often surprised and inspired by the food they have eaten along the way. Having learned new flavors and techniques to add to the outstanding food of the American South, the one constant theme they realized is how different foods from different cultures can unite people, regardless of nationality. Meals provide the opportunity to meet new people, share stories, provide new experiences and make connections in the community At Plates, you will enjoy favorite international dishes combined with regional southern flavors.
Stop Hunger Now is an international hunger relief organization that coordinates the distribution of food and other life-saving aid around the world. Founded in 1998, Stop Hunger Now has delivered aid and disaster relief supplies in the form of food, medical supplies, clothing, school supplies, and more to thousands of disaster victims and other hungry and vulnerable people in 65 countries.
Around the world, more than 868 million people lack adequate food and more than 25,000 die each day from hunger-related illnesses. Stop Hunger Now operates meal packaging locations in 18 cities throughout the U.S. and international locations in South Africa and Malaysia. More than 300,000 volunteers from corporations, churches, schools and civic organizations have packaged Stop Hunger Now meals.