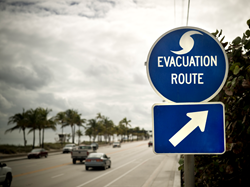 LINCOLN, R.I. (PRWEB) June 18, 2014
With hurricane season upon us, it's important to know the truth about these dangerous storms. That's why Amica Insurance is helping to debunk four hurricane myths by sharing the following information from the National Weather Service (NWS) and local Florida governments:
Myth: Only coastal areas are at risk of hurricanes.
Fact: Strong winds, heavy rain and flooding can spread inland hundreds of miles from the coast, devastating homes and properties.
Myth: Slightly opening the windows during a hurricane equalizes the pressure inside your home, preventing the roof from collapsing or exploding.
Fact: No home is airtight, so the pressure inside will equalize on its own. Opening windows only provides a way for rain and debris to enter the home.
Myth: Taping windows with duct tape will prevent them from breaking or shattering.
Fact: Tape will not prevent debris from shattering windows. It will only make the glass fall in large chunks rather than small shards, which is even more dangerous. The best means of protection is boarding up windows or installing hurricane shutters.
Myth: The weather doesn't look bad, so there's no need to evacuate until the storm hits.
Fact: If told to evacuate, leave immediately. Waiting for the storm to hit before leaving is inviting unnecessary danger, and it could leave you stranded in your home in the middle of the storm. Have an evacuation plan and destination in place, and follow it immediately when alerted.
The NWS reports that there have been very few hurricane-related deaths over the past five years – 16 from 2009 through 2013. By understanding the truth about hurricanes, you can stay safe from these storms and help make sure that statistic stays low.
About Amica Insurance
Amica Mutual Insurance Co., the nation's oldest mutual insurer of automobiles, was founded in 1907. The company, based in Lincoln, R.I., is a national writer of automobile, homeowners, marine and personal umbrella liability insurance. Life coverage is available through Amica Life Insurance Company, a wholly owned subsidiary. Amica employs more than 3,200 people in 40 offices across the country.
CONTACT: Vince Burks, Corporate Communications, 50 Amica Way, Lincoln, RI 02865-1155, 800-652-6422, ext. 24563
Twitter: Amica
Facebook: Amica Mutual Insurance Co.