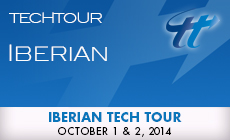 "...In particular, the presence of major European LPs during the event will ensure, the whole value chain of the industry will be in Lisbon for the Tech Tour.''
Geneva, Switzerland - Brussels, Belgium - Valencia, Spain - Lisbon, Portugal (PRWEB UK) 18 June 2014
Tech Tour announced the 2014 Iberian Tech Tour to be held October 1-2 in Valencia and Lisbon. Tech Tour will pair the most promising early and later stage growth companies with representatives from leading venture capital and global corporate firms.
The 25 best Companies
Companies from across the technology spectrum based in Spain & Portugal can apply to compete to become one of 25 finalists. As part of the process applicants must submit an online company profile and draft presentation. Selected companies will not be charged to apply or present and are selected by merit.
Stephan Morais, Executive Director, Caixa Capital, ''I was delighted to accept the role of Co-President of the Iberian Tech Tour and in particular to host the participants in Lisbon. This is the right time to come and see for yourself why the Portuguese startup scene is so dynamic with global class research, technology and teams, great incubators and accelerators and why a growing number of international sophisticated investors are starting to discover the opportunity to access a highly educated and globally minded young generation. From digital and ICT to medical devices and biotech companies, there is a new country well beyond the sun, wine and golf everyone knows about. In particular, the presence of major European LPs during the event will ensure the whole value chain of the industry will be in Lisbon for the Tech Tour.''
Apply for the Iberian Tech Tour: http://www.techtour.com/register/register.aspx?events_id=507.

No charge to apply
No charge for selected companies to attend the event – selection is merit based only
Companies are selected by an expert selection committee, according to their potential market impact, and can be at any funding stage from start-up to pre-IPO.
Selected companies will be presenting to a group of 50 global investment professionals
Selection Criteria
Applicants will be assessed on the uniqueness of their technology, the strength of their business model, vision, and capability to execute on the business plan and the quality and track record of their management. Submissions will be reviewed by the selection committee, which is comprised of senior business leaders from various backgrounds including venture capital, technology, research and economic promotion.
Rewards for Finalists
The selected 25 finalists will each have a time slot to present their business plans to senior partners, vice presidents and CEO`s from the global venture capital and technology industry, as well as service providers and academics. In addition, they will benefit from networking opportunities, local and international media exposure and potential opportunities to secure funding.
Many companies that have presented at previous Tours in the Southern region have either been acquired or raised more significant funding. Some notable examples include:
o Expert System, USD$27M IPO
o Yoox, USD$142M IPO
o BUYVIP, USD$96.5M M&A
o Octo Telematics, USD$548M M&A
o Jobrapido, USD$40.7M M&A
o Buongiorno, USD$300M M&A
o Scytl Secure Electronic Voting, USD$78.8M Funding
o SR Labs, USD$53M Funding
o Advanced Accelerator Applications, USD$52.8M Funding
o NTR Global, USD$34M Funding
About Tech Tour
The Tech Tour was founded in Geneva in 1998 in response to the growing interest in emerging technology companies in various European regions. Tech Tour is composed of key contributors to the high technology industry. Tech Tour recognizes that continued prosperity in Europe lies in its ability to transform today's innovative projects into tomorrow's global technology leaders. For further information, please visit http://www.techtour.com.
About the International Venture Club
The International Venture Club was founded in 2011 as the collaborative platform of leading venture investors promoting successful international investments. Its objectives are to 1) share better practices, 2) build co-investor trust and relations, 3) foster new funding and investment opportunities through joint actions and PR, 4) grow promising companies with corporate partners and co-investors and 5) keep a smart window and support to emerging innovative companies. http://www.iventureclub.com
Media Contacts:
Tanja Baltus
International Venture Club
+32 (0) 2 643 36 94
tanja(at)iventureclub(dot)com
Patrice McCauley
Tech Tour
+41 22 544 60 62
patrice(at)techtour(dot)com
David Schimm
BondPR Worldwide
+49 179 59 447 45
David(at)BondPR(dot)com