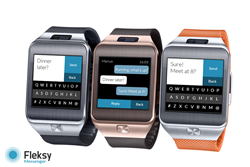 Our unique keyboard technology is redefining what wearable technology devices are capable of, and how users will engage with their smartwatch.
San Francisco, CA (PRWEB) June 18, 2014
Fleksy, the award-winning touchscreen keyboard company, released a messaging app today for the Samsung Gear 2. Fleksy is the world's leading solution for quick and accurate typing, and its patent pending technology has been highly anticipated by the world of wearable technology.
Now with the Fleksy Messenger app, Gear users can use Fleksy's unmatched technology to send SMS messages straight from their wrists, forever improving their typing experience. The Fleksy app is the first keyboard to integrate with the Samsung Gear 2, allowing users to access previous conversation threads and contacts, receive SMS messages and reply to them straight from their wrist. The Fleksy app syncs with the user's Smartphone, integrating all information from both devices—all using award-winning technology that makes typing on small devices a breeze.
Founder and COO of Fleksy, Ioannis Verdelis said: "We are excited to have worked with the support of the Samsung Gear team to bring an awesome new app to the Gear ecosystem and Tizen wearable OS. Our unique technology is redefining what wearable technology devices are capable of, and how users will engage with their smartwatch."
Fleksy's patent pending technology is uniquely positioned for wearable devices, designed to help users more easily and accurately reply to text messages. Typing within such a small area can be a challenge, but Fleksy's sleek design and unparalleled prediction engine makes it virtually effortless. This is one of the first steps in the direction of enabling Fleksy on all smart devices—regardless of their size, shape, and form factor.
The Fleksy Messenger App is available for free download today from Samsung Apps.
"It's exciting to be expanding to devices like the Samsung Gear, and we're confident that Fleksy will continue to grow as the leading keyboard for smart and connected devices. We want every owner of a smart device—wearable devices included—to have access to Fleksy, and to enjoy a happy typing experience," said KostaEleftheriou, Founder and CEO of Fleksy.
About Fleksy
Fleksy is a revolutionary keyboard powered by patent-pending technology that makes typing on any device fast, accurate and so easy you can type without looking. Its unique language algorithm founded on Geometric Intelligence moves beyond text prediction and autocorrect to give a much more accurate and easier typing experience than other keyboards. Winner of the 2013 CES Innovations Design and Engineering Award, Fleksy is the first keyboard app to be demonstrated on a 3D gesture system (Leap Motion); the first to be demonstrated on a SmartWatch (Omate) and the first to arrive on iOS. Fleksy's award-winning design and technology is backed by venture capital firms including Highland Capital Partners and Kleiner Perkins Caufield& Byers. To learn more about Fleksy, visit http://www.fleksy.com.
About Samsung Electronics Co., Ltd.
Samsung Electronics Co., Ltd. is a global leader in technology, opening new possibilities for people everywhere. Through relentless innovation and discovery, we are transforming the worlds of TVs, smartphones, tablets, PCs, cameras, home appliances, printers, LTE systems, medical devices, semiconductors and LED solutions. We employ 286,000 people across 80 countries with annual sales of US$216.7 billion. To learn more about Samsung, please visit http://www.samsung.com.
Press Contact
Ioannis Verdelis
press(at)fleksy(dot)com
http://press.fleksy.com