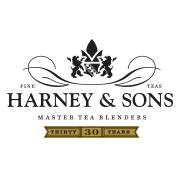 New York, New York (PRWEB) June 18, 2014
Harney & Sons Fine Teas, celebrating thirty years and three generations of success, will host their annual Harney Fest with a series of special events to honor their milestone anniversary. Harney Fest will be held on August 16, 2014 from 8:00 AM to 5:00 PM at their Headquarters in Millerton, NY. This family-oriented event will feature live music, games, food, factory tours, and tea tasting classes. Raffle tickets will be available for sale to benefit the Pine Plains Free Library. Harney & Sons tea and accessories will be on sale during the event.
In celebration of their 30th Anniversary, Harney & Sons adds an exciting element to Harney Fest in the form of a golden ticket, found in every purchase of Harney & Sons 30th Anniversary Tea (20ct) placed between June 11 and July 10, 2014. One lucky winner and a guest will receive a two-night trip, starting with round-trip airfare to New York City, transportation around New York, two night's accommodations, a $100 restaurant gift certificate, entry to Harney Fest, and Sunday breakfast with the Harney family. The winner will be announced on July 15, 2014.
About Harney & Sons Fine Teas
Harney & Sons was founded on a commitment to deliver the finest quality tea possible. This promise, made 30 years ago, serves as the company's guiding principle. Today, Harney & Sons remains family owned and managed, with three generations of the family preserving Founder John Harney's tradition of fine tea and traveling the world in search of the finest ingredients. The company sources, blends, and packages their own product from start to finish. Their goal is to bring the exotic aromas and refined tastes from around the world to tea drinkers as an affordable luxury. Harney & Sons Fine Teas fills 90,000 square feet of warehouse space and employs over 160 people. From lugging heavy tea filled chests down the basement stairs of their home 30 years ago, to stocking shelves at Targets nationwide today, Harney & Sons remains committed to providing a superior tea drinking experience.
Golden Ticket: http://www.harney.com/goldenticket
Harney Fest: http://www.harney.com/harneyfest
Address: 5723 Route 22, Millerton, NY 12546
Date: Saturday, August 16, 2014
Time: 8:00 AM – 5:00 PM