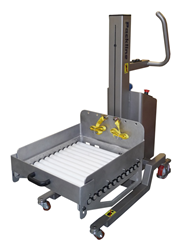 The Platform Lifting Attachment with Rollers is a great option for any business wishing to improve or eliminate any lifting and handling issues they are experiencing.
(PRWEB) June 20, 2014
Packline's new bespoke design platform attachment with rollers has been developed in order to allow loads to be lifted and lowered and then removed from the lifting attachment itself as smoothly as possible.
This barrel lifting solution involves handling 20 litre barrels. The barrels are loaded onto the roller attachment, and then easily and efficiently removed from the lifter to the storage racking using the platform attachment's sliding roller mechanism.
The acetal rollers are strong, robust and very wear resistant, ideal for clean room environments such as those found in the food, drinks and pharmaceutical industries. The stainless steel 'Compac' lifter itself is specifically designed for use in food and pharmaceutical industries.
The full locking 'door' at the front of the platform attachment, means that goods can be transported whilst on the attachment rollers without the risk of the load falling from the lifter. This increases the overall safety of the lifter.
The attachment rollers also have suitable clearance between each other. This enables the rollers to be easily cleaned to ensure suitability for clean room environments.
Specifications:

Safe working load = 60kg /132lb
Attachment Mass = 28kg /61lb
Main materials = aluminium 6082T6, stainless steel 304, delrin, acetal.
Bespoke lifting solution to suit the specific lifting and handling requirements of the customer.
Packline Materials Handling has been designing and manufacturing lifting and handling equipment since 1993. The range of stainless steel materials handling equipment has established Packline as a leading supplier of quality roll and drum handling equipment for the food, drinks, dairy, pharmaceutical and medical processing industries worldwide.
Packline Materials Handling are able to provide bespoke lifting and handling solutions for materials handling issues involving rolls, reels and drums; by creating new concepts or tailoring existing lifting and handling equipment to meet specific requirements.
Ideally suited for clean room environments, the stainless steel 'Compac' range of roll and drum handling equipment from Packline materials Handling, is suitable for use in the following industries:
Food processing
Drinks and Beverages Processing
Dairy
Pharmaceutical
Packaging and Labelling Industries
FMCG; Fast Moving Consumer Goods
Medical Processing
Chemical
The purpose-designed compact framework, positioning of handlebars and addition of an optional remote control device provide improved manoeuvrability and ease of use for the operator.
The incredibly small footprint makes the 'Compac' roll and drum handling equipment highly manoeuvrable and a natural choice for today's narrow production lines and demanding lifting requirements.
For further information on the platform lifting attachment with rollers, or the full range of lifting and handling equipment, please contact Packline Materials Handling on +44 (0)1202 307700 or visit http://www.packline.co.uk.
Packline Ltd
Unit 28
Newtown Business Park
Ringwood Road
Poole, Dorset
BH12 3LL, UK
USA Distributor:
Ultrasource USA LLC
1414 West 29th Street
Kansas City, MO 64108-3604
(O): 816.360.2034 | Ext 2034
http://www.ultrasourceusa.com/
For a full list of worldwide distributors please visit Packline's website.