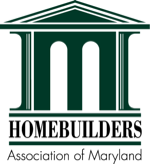 "The Maryland Center for Housing is where the industry will come together to conduct its business for decades to come. This is just the beginning of what we expect to be a bright future for our industry and our members."
Baltimore, MD (PRWEB) June 18, 2014
The Maryland Center for Housing officially opened for business today in the Maple Lawn Business District in Fulton, MD. It will be the new headquarters for the Home Builders Association of Maryland and the Maryland-National Capital Building Industry Association. These home building trade organizations plan to merge later this year to form the Maryland Building Industry Association.
"This is a momentous day for HBAM and MNCBIA," said Russ Dickens, president of HBAM. "This building will give the home building and remodeling industry a physical presence in Central Maryland that stands as a testament to the strength, vitality and endurance of the industry." Clark Wagner, president of MNCBIA added, "We are not only giving our members a new headquarters we are bringing together two organizations to make our industry stronger."
The building will be owned by the Home Builders Care Foundation, the non-profit foundation of the associations, and office space will then be leased to HBAM and MNCBIA. The rent income paid to the Foundation will provide a stable, long-term funding source to endow the Foundation and support its charitable, education and research activities.
The Maryland Center for Housing is the culmination of years of work and the generous donation of land, labor, materials and money from association members. Stewart Greenebaum, known throughout the industry for his success in land development and his philanthropy to the community, generously donated a fully permitted parcel of land in the commercial district of Maple Lawn in order to make this building possible. One donation quickly turned into several and commitments streamed in as the word spread. Shannon Comer Architects stepped up and generously donated her company's time and expertise to design the sophisticated 10,000 square foot building. The design includes a usable show kitchen, first floor work rooms and meeting rooms, a large board room and office space for the Foundation. Many other member companies have been quick to donate their product, time and expertise to the building. "We are lucky to have such camaraderie and teamwork among our members, said Wagner. "This building will be a focal point and gathering place for current industry professionals and future generations," he added.
Dickens noted, "The Maryland Center for Housing is where the industry will come together to conduct its business for decades to come. This is just the beginning of what we expect to be a bright future for our industry and our members."
The Maryland Center for Housing is located at 11825 West Market Place, Fulton, MD 20759. For more information, please visit http://www.marylandcenterforhousing.org.