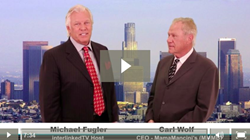 (PRWEB) August 29, 2014
MamaMancini's was one of the presenting companies interviewed at the recent FSXinterlinked Investment Conference, held at the Four Seasons, Westlake Village, California.
During the event, FSXinterlinked host, Michael Fugler, interviewed Carl Wolf, MamaMancini's CEO & Chairman.
"Michael is a global expert and speaker on entrepreneurship. He asks just the right questions to get the simplest, most informative descriptions of what our presenting companies do and who these entrepreneurs are." stated Mr. Delray Wannemacher, FSXinterlinked President.
During the interview, Mr. Wolf gave an overview of the Company and said "We make a line of all natural Italian products, principally meatballs. We now are coming out with a line of all natural meatballs and other products with pastas and also sauces. We are now in approximately 33,000 spots on the supermarket shelves and our goal is to reach about 50,000 by the end of the year."
"We incorporated in 2010 and started very slow; really started taking off in 2011. We started raising outside capital in 2012."
MamaMancini's is a manufacturer and distributor of a line of all natural beef meatballs with sauce, turkey meatballs with sauce, chicken meatballs with sauce, pork meatballs with sauce. The fast growing brand is carried in markets such as Whole Foods, Kings Supermarket, The Fresh Market, Acme, Pathmark, Publix, Giant Eagle, Shaws Supermarkets, Harris Teeter, Stop n Shop and Shop Rite to name a few.
Daniel Mancini founded MamaMancini's after pioneering numerous successful consumer goods business. Daniel is passionate about bringing back the family dinner using his grandmother's recipe. Daniel has appeared on the Martha Stewart Show, Today Show, Access Hollywood LIVE, CBS Local, Fox Business and has been featured in the Wall Street Journal, New York Times, The New York Daily News and more.
The complete exclusive interview is available only on the FSXinterlinked channel on InterlinkedTV.
Mr. Fugler encourages investors to view all of MMMB 's SEC filings and visit MamaMancini's Public Profile on Interlinked.com as well as their website for more information.
About FSXinterlinked Investment Conference
FSXinterlinked is the premier investment conference organization in the United States. Founded as Financial Services Exchange (FSX) in 1983, it is one of the longest standing and most trusted investment conferences in the country for Broker Dealers and financial professionals. For more information about our organization please visit FSXinterlinked.com
About Interlinked
Interlinked is a global investment community of investors, emerging growth companies, and resource partners. Interlinked offers an efficient way for companies to maximize exposure and access a private network of funding sources and verified service providers. For investors, Interlinked provides a secure environment to find, vet and engage companies, and communicate with members. Interlinked gives members exclusive access to a proprietary investment platform, which integrates virtual data rooms, video news, a service provider marketplace, an event directory, and customized marketing services, including email marketing, video production, public relations and more. For more information, visit: http://www.interlinked.com/.
Safe Harbor Statement
This press release may contain information that constitutes forward-looking statements made pursuant to the safe harbor provisions of the Private Securities Litigation Reform Act of 1995. All statements, trends, analysis, and other information contained in this press release, including words such as "anticipate," "believe," "plan," "estimate," "expect," "intend," and other similar expressions of opinion, constitute forward-looking statements. Any such forward-looking statements involve risks and uncertainties that could cause actual results to differ materially from any future results described within the forward-looking statements. Risk factors that could contribute to such differences include those matters more fully disclosed in the Company's reports filed with the Securities and Exchange Commission. The forward-looking information provided herein represents the Company's estimates as of the date of the press release, and subsequent events and developments may cause the Company's estimates to change. The Company specifically disclaims any obligation to update the forward-looking information in the future. Therefore, this forward-looking information should not be relied upon as representing the Company's estimates of its future financial performance as of any date subsequent to the date of this press release.