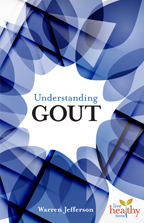 "... provide crucial information for those searching for answers to managing their health care."
Summertown, TN (PRWEB) June 30, 2014
The Live Healthy Now series covers a wealth of information that resonates with transitions many people are making toward more simple, healthy lifestyles.
Each book provides a clear, concise understanding of a common disorder, explores the spectrum of natural wellness remedies, identifies common foods that help prevent illness, or promotes healing herbs and nutritional supplements. This type of knowledge enables readers to feel empowered to implement solutions.
Published by Healthy Living Publications—an imprint of Book Publishing Company—at 48 pages with a retail price of $5.95, the easy-to-digest medium and reasonable cost make these books attractive to a wide audience. While a common theme is the use of holistic means to improve health, sometimes simple lifestyle changes together with medication offer the best course of action.
Understanding Gout by Warren Jefferson proves this point. Gout is a chronic degenerative disease of the joints and a common inflammatory arthritic condition. This book examines the causes, symptoms, and treatments of this debilitating disease, and presents readers with essential information about testing, diagnosis, and complications that can arise from untreated attacks. A review of common medications used for managing gout is accompanied with the latest recommendations for diet, lifestyle, and other beneficial measures that can effectively control this condition.
With a different approach, Weight Loss and Good Health with Apple Cider Vinegar by Cynthia Holzapfel demonstrates how food can function as a prescription to better health. Apple cider vinegar is readily available, inexpensive, and extremely versatile. Used throughout history as a means to reduce infections and improve digestion, readers are given a fascinating explanation of how this fermented liquid interacts within the body to stimulate weight loss as well as work as a reliable treatment for a multitude of ailments.
Books on detoxification and cleansing, food combining, ADHD, and coconut oil are due out in the next few months. John Schweri, BPC Sales Manager, is "excited that the Healthy Living Series will allow us to provide crucial information for those searching for answers to managing their health care."