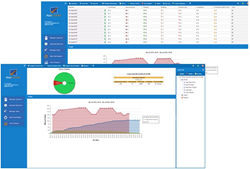 "The token server offers more accessibility. Current client response has been very positive." - Lywan Kummer, VP of Marketing, NRG Global
Los Angeles, California (PRWEB) June 19, 2014
ScenarioBuiler 8, NRG Global's latest tool for application monitoring and load and stress testing, has seen significant improvements in license server capabilities. The current option is an IP or hostname based license server, but with this update comes a token-based, master license server. The token server offers more flexibility in regards to which workstations or servers can perform testing or monitoring in any given location. To learn more, visit NRG Global.
The ScenarioBuilder suite of software has both an application performance monitoring component, AppsWatch, and a load and stress testing solution, AppLoader. With the token server in place, any computer within the IP range delegated by the server can access a temporary license for testing or monitoring. Different workstations can perform specific tasks depending on the power or performance deemed necessary for said task. Large-scale or enterprise initiatives are benefited by allowing for testing or monitoring to take place at varying locations, whether on-site or off.
The license options offered provide advanced solutions for complex or demanding workloads. Each software tool, AppLoader, AppsWatch, or ScenarioBuilder, can be purchased separately or together and can all have different individual licensing options. Varying needs can be accommodated and projects can be maintained in the most efficient manner possible depending on the workload. To find the best solution for any project, contact NRG Global for a free proof of concept.
About NRG Global:
NRG Global's motto is that you should test software the way you use it. Their software is built from the ground up to replicate exactly how the end user interacts with the application to give you the most accurate test possible.
Their unique approach to performance testing has helped companies around the world test critical business applications. Their clients include: Capgemini, JPMorgan Chase, Baylor Health Care System, UCLA, GAP, and NASA.
For more information about NRG Global, visit http://www.NRGglobal.com.
Contact Info:
Ted Petcu
NRG Global
+1.213.234.7550
tpetcu(at)nrgglobal(dot)com