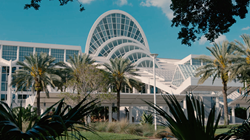 With seven million square feet under roof, one of the most important things is navigation.
San Jose, CA (PRWEB) June 24, 2014
Array Interactive, a digital signage agency in Silicon Valley, is helping Florida convention attendees find their way with a unique custom solution. Hosting over one million attendees and 200 events a year, the Orange County Convention Center (OCCC) in Orlando is the second largest event facility in North America. The wayfinding system designed and installed by Array Interactive enables OCCC staff to dynamically control the center's live activity by routing directional and exhibitor branded content onto 66 signs on four different floors.
"Our motto is to make sure every visitor has a great experience, from the time they enter the convention center to the time they leave," says Yulita Osuba, OCCC Deputy General Manager. "With seven million square feet under roof, one of the most important things is navigation."
"The OCCC needed a solution that was comprehensive, adaptive, secure and easy to update," adds William Kwok, Array Interactive's CEO. "We created an intelligent application that integrated with the center's Ungerboeck event management system to access real-time event data, dynamically convert it to the right information and deliver it to the right combination of displays. The system manages the constant delivery of a large amount of information to make navigating a complex environment easy."
"Now, instead of posters or static signs in a few locations, digital wayfinding throughout the facility helps our visitors orient themselves and direct them to their meeting location." Says Yulita Osuba, "Since the system was implemented, we've received many compliments from our guests. It's helped create a great overall experience."
"In terms of ease, sustainability and efficiency, we're seeing event facilities elevate every aspect of the guest experience," adds Kwok. "More and more companies understand how important this is."
For more information about Array Interactive and the advanced digital solutions it provides, go to http://www.arrayinteractive.com or contact Jeff Dumo at jeff.dumo.com, (408) 444-2531.
About Array Interactive
Serving companies across industries and around the world, Array Interactive is a digital signage agency that helps brands access the power and possibilities of digital signage. Combining proven strategic, creative and technology expertise, the company architects uniquely powerful onscreen experiences, custom applications and products that meet strategic business, marketing, and communication objectives. The results are custom content-rich digital experiences that bring unique relevance to audiences and users. The agency's clients include Adobe, Cisco, ExxonMobil, Salvatore Ferragamo, San Francisco Giants, NASA, and the U.S. Army.
About The Orange County Convention Center
Celebrating more than 30 years of success, the Orange County Convention Center is the second largest convention facility in America. Each year the OCCC attracts more than 200 events to the Central Florida area. As a result, roughly 1.4 million attendees contribute approximately $2.1 billion to the area's economy each year. For more information about the Orange County Convention Center visit our Web site at http://www.occc.net.