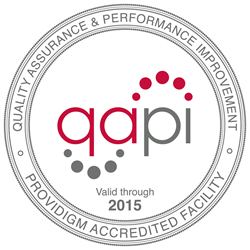 We take quality seriously.
Burien, Washington (PRWEB) June 20, 2014
Burien Nursing and Rehabilitation Center has received accreditation as a skilled nursing facility actively performing Quality Assurance and Performance Improvement activities. The accreditation, presented by independent accreditor Providigm, LLC, demonstrates that the facility is continually assessing residents' quality of life with regard to concerns such as pain, dignity, respect for resident choice, and quality of care problems including whether there are enough staff to meet resident needs, weight loss, infections, rehabilitation following acute injury or illness, and prevention of readmissions to hospital.
"This accreditation signifies that Burien Nursing and Rehabilitation Center is committed to continuously improving the care that they provide based on feedback from residents and families," said Dr. Andrew Kramer, Providigm CEO and international expert on measuring quality of elder care. "We congratulate Burien Nursing and Rehabilitation Center on their commitment to improve the quality of life and care given to our elders."
Unlike other such rating systems, the Providigm QAPI Accreditation is based on actions that nursing centers take to identify and correct quality problems. The methodology of QAPI is widely used in various health care settings and is becoming a major focus of nursing home regulation.
"We are extremely proud of the work our care team has accomplished to achieve this accreditation," said Lynda Baldwin, Administrator of Burien. "We take quality seriously. We strive to give our residents the quality of life and level of dignity they deserve."
Burien Nursing and Rehabilitation Center recently received an award from the American Healthcare Association for safely reducing hospital readmissions, safely reducing the off-label use of antipsychotics and increasing staff stability. "We attribute our success in the above areas to our high physician presence model and stable staffing," said Baldwin.