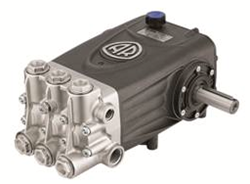 'Our goal is to be the best high pressure water pump and parts supplier in the world.' - Ralph Notch, Founder
(PRWEB) June 19, 2014
AR North America announces the RTX, newest in its wide range of state-of-the-art, easy maintenance pumps. The RTX features stainless steel convexed intake and discharge valves for high fluid dynamic efficiency along with high-strength, one piece, non-porous forged nickel-plated brass head and forged heat treated steel crankshaft. The dual high-pressure sealing system with anti-extrusion ring support lubricated with low pressure recirculating lubrication chambers for the low pressure seals, plus "premium" tapered roller crankshaft bearings make this model a powerful pump option.
Founded in 1989 by Ralph Notch, Annovi Reverberi North America, Inc. has become a leader in the pressure washing, car wash, misting and cooling, sewer jetting, carpet cleaning and reverse osmosis markets where high pressure water plunger pumps and related accessories are key. AR North America believes its success is based on a commitment to technical excellence, unparalleled customer service, world-class manufacturing and distribution.
The internal structure of ARNA is characterized by guaranteed high standards of quality, safety and responsiveness. Consumer reviews confirm that commitment: "Excellent product, even better customer service." "A real winner." "Impressive product." "..accomplishes many tasks easily." "This is the one to buy."
AR Pumps are at the heart of the best pressure washers in the world. AR North America, operating in a 60,000-sq.-foot warehouse located in Fridley, Minnesota, maintains high inventory levels for prompt delivery of products to manufacturers, distributors and service dealers. A well-staffed service department provides technical assistance and necessary repairs or product modifications to meet local requirements.