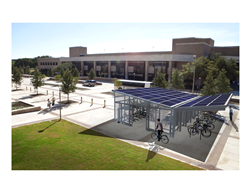 "Our CycleStation is a parking garage for riders who use their bikes every day. It fills a need in the exploding national movement to encourage and accommodate bicycling"
Canton, Michigan (PRWEB) June 20, 2014
An innovation in bicycle parking offers safety and security for riders as it generates revenue. Duo-Gard Industries Inc. has introduced the new CycleStation as a solution for accommodating cyclists who own their bikes and use them regularly for commuting and recreation transportation. For over 30 years, the company has been a leading maker of outdoor structures, including bike shelters, transit shelters and canopies.
"Our CycleStation is a parking garage for riders who use their bikes every day. It fills a need in the exploding national movement to encourage and accommodate bicycling," said Michael Arvidson, executive vice president. "This is infrastructure, out in the open, for the future of this mode of transportation. It opens opportunities for cities, campuses both corporate and educational, plus other commercial locations."
Modular CycleStations typically store from 10 to 100 bikes and can be customized for specific needs. Riders purchase daily, monthly or annual passes and gain access to the station by swiping a membership card. Fees are set by the station's owner/operator and provide a consistent return on investment.
Duo-Gard's strategic, turnkey program includes design, database planning, software, program administration, training, structures and installation. Engineer-stamped designs are available. Custom design, glazing and framing colors tailor the structures to each site setting to ensure any required architectural aesthetics.
In addition to standard lighting, designers can choose solar LEDs/PVs for savings and sustainability. Among the many amenities available are electric vehicle chargers. CycleStations can be networked with multiple locations and can be combined with bike-share programs.
"In addition to advantages for riders, our CycleStations offer operators the possibilities of including advertising or public messages, lockers and vending machines or self-service air and repair areas," Arvidson added. "Of course, one of the most significant factors is the security riders gain in keeping expensive property protected."
For additional information, visit http://www.duo-gard.com or call 734-207-9700.
About Duo-Gard Industries Inc.: Duo-Gard Industries Inc. is a leading innovator in special-purpose shelters, as well as custom canopies, outdoor structures and high-performance daylighting systems. For over 30 years, Duo-Gard has advanced technology with design, engineering, fabrication and installation of custom architectural products that enhance sustainability. Duo-Gard was established in 1984 and is headquartered at 40442 Koppernick Rd, Canton MI 48187. The company was honored in May 2012 as one of the Michigan 50 Companies to Watch in 2012. For additional information, please visit http://www.duo-gard.com.
Editorial contacts for Duo-Gard:
Julie Mead, Marketing Manager 810-623-0561 jmead(at)duo-gard(dot)com
Linda Byam, Marketing Consultant 248-761-7990 lbyam(at)duo-gard(dot)com
Nancy Duerst, Marketing Specialist 734-834-0432 nduerst(at)duo-gard(dot)com