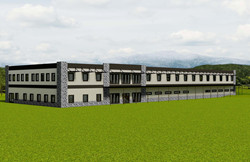 We see a unique need for this technology because of the influx of incoming students and large work force relocation due to the economic status of some states.
McKinney, TX (PRWEB) June 24, 2014
Icon Construction, a general contractor specializing in the design and build of modular, permanent modular and modular re-locatable buildings, has announced its expansion into the higher education market, offering budget-conscious universities nationwide significant cost benefits and expedited project life cycles for student housing.
Measuring anywhere from 175 to 375 square feet, a single modularly constructed dormitory unit can accommodate a maximum occupancy of 1,500 to 20,000+ students on as many as 3 stories. They also provide a host of unique features specifically benefiting the university lifestyle such as flexible floor plans, option to easily relocate from one campus to another, and ability to take on the appearance of other buildings matching the image of the campus.
Modularly constructed dormitory units are also built with quality as a top priority throughout the entire construction process, so longevity of the buildings is guaranteed. However, since modular structures themselves can be as permanent or temporary as the university would like, they are often used as a cost-effective temporary solution until funds are generated for traditional housing.
Financed projects also catch a break as permanent funding is usually acquired sooner and at a lower interest rate than interim financing.
In-house architect Kent Hughlett said, "This is a new territory for us in the very diverse realm of the multi-living-dwelling industry. We have previously designed multi-story hotels, apartments, and barracks and we incorporate this past experience for the dormitory and student housing design projects. We see a unique need for this technology because of the influx of incoming students and large work force relocation due to the economic status of some states."
With guaranteed compressed construction schedules, students can move in to the fully utilizable modular dormitory facilities in a matter of weeks. Not only does this add a designated revenue steam for facility owners, interim costs during build out are much lower than traditionally constructed buildings.
Approximately 80% of the construction takes place in the plant after which time the modular units are shipped to the site. Labor costs are constant during the manufacturing process as compared to the unpredictable availability and wild swings of labor rates on site. Since the modular units are built in doors in a climate controlled environment, the weather factor is greatly reduced, thus increasing the project manager's ability to stay on schedule and deliver within budget.
About Icon Construction:
Icon Construction is proud to be the only small business, Veteran and Native American-owned manufacturer of modular structures in the U.S. For the past 15 years, their experienced team has provided customers with outstanding service from beginning to end. Icon continuously strives to build the highest quality modular buildings in the industry & deliver products that are superior to its competitors. Since April 1, 1998, Icon Construction has been able to meet the space needs of many major markets including military, education, administration, health care, government, commercial and residential facilities.
For more information, please visit http://icon-construction.com/.
Media Contact: Joe Green jgreen(at)icon-construction(dot)com