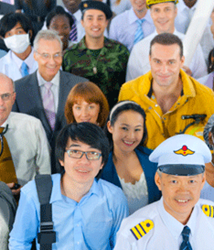 Our program helps injured employees return to work in a quick and cost-efficient manner.
La Mirada, CA (PRWEB) June 24, 2014
Healthpointe recognizes that the longer an injured employee stays at home, the less inclined that he/she may be to actively participate in a work environment again. This can translate into delayed re-entry, a negative attitude, and an increased likelihood of re-injury. Fortunately, Healthpointe has established a program to accommodate individuals who have been placed on work restrictions or disability. This program will incorporate and teach various modified work activities to assist employees when they return to work. Our program helps injured employees return to work in a quick and cost-efficient manner.
The Return-To-Work and Wellness Program is an educational program that consists of supervised 4-8 hour shifts of instructional lessons that utilize safety videos, tests, and handouts in a traditional classroom setting. The program is available at 7 of our locations: La Mirada, Long Beach, Colton, Corona Irwindale, Ontario and Perris. Healthpointe's program will not only ease the work restricted patient's transition to recovery, but it will also educate them on how to avoid work accidents and live a healthy lifestyle. Led by Joy Medina, Healthpointe's Senior Client/Patient Representative, this program enhances the patient's recovery progress by decreasing both the recovery time and costs of injury claims. The Return-To-Work and Wellness program focuses on three main goals: to provide an alternative to at-home recovery, motivate employees to return to work through a structured schedule, and educate employees on proper body mechanics, healthy living strategies and injury preventions. Additionally, attendees will be educated in various topics, including injury prevention, proper lifting techniques, bloodborne pathogens, material safety handling, first aid, education on healthy living, and so much more.
Come to Healthpointe - where patients, employers and employees will be able to experience one of the most effective transitional return to work programs in the healthcare industry. Healthpointe's program is offered during regular business hours: Monday-Friday 8-5. For more information, contact Healthpointe at 844-887-7882 or visit the Healthpointe Website.
About Healthpointe:
Healthpointe is a leading multidisciplinary healthcare organization offering a full range of medical services in practice locations throughout Southern California (Los Angeles, Orange, San Bernardino and Riverside counties). As a highly regarded musculoskeletal group, we have a personal investment in the highest level of service, and we are proud of our record of excellence over the last four decades with private patients, injured workers, urgent care, personal injuries, and professional and non-professional athletes. Leading our organization is a dynamic team of healthcare professionals who continually strive to be at the forefront of medical innovation and healthcare service delivery. For more information, a complete list of services, and Healthpointe locations, visit http://www.Healthpointemd.net.