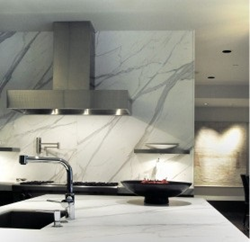 'The Calacata Oro stone is a fantastic combination of classic and trendy,' said Chada. 'It makes for fabulous kitchen and bath treatments that are sure to suit any customer's style.'
Brisbane, CA (PRWEB) June 19, 2014
Dilmohan Chadha, owner of Integrated Resources Group (IRG), has just received a new shipment of stone from his most recent buying trip to Italy. The stone is classic Calacata Oro, which is a very striking all-white marble with gold tones and veining.
Because these incredible stone slabs are from several different quarries, the stone that has come into IRG is all beautifully unique with slight color variations. The Italian quarries include Borghini, Furrer and Franchi.
So far, ten containers have arrived at IRG, which totals close to 800 slabs. With such a vast and huge amount of stone, IRG is ready to help customers create the perfect kitchen or bathroom.
"The Calacata Oro stone is a fantastic combination of classic and trendy," said Chadha. "It makes for fabulous kitchen and bath treatments that are sure to suit any personal style."
IRG invites their customers to come into their showroom to see the beautiful new stone for themselves. Both the Dublin and Brisbane showrooms are open 8:30 a.m. – 5 p.m. Monday through Friday and 10 a.m. – 3 p.m. Saturday. For more information, call 415-657-0280 or visit http://www.marblecompany.com.
About the Company:
Integrated Resources Group offers the largest selection of natural stone in the San Francisco Bay Area. The family-owned business started as a trading company in 1986 dealing in agricultural products, canned food, apparel and natural stone. With a growing reputation for its high-quality natural stone and excellent service, the company relocated the business to a vast warehouse and showroom in Brisbane, where they now carry more than 250 types of stone. The company opened a second showroom and warehouse in Dublin to service East Bay customers. Its products include stone, exotics, glass tile, engineered stone and more. For information on the products and services of Integrated Resources Group, the Bay Area's marble and granite company, call 415-657-0280, visit http://marblecompany.com/ or come into either of their two locations.