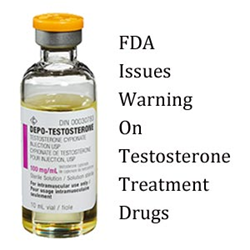 If your believe you have suffered cardiovascular problems due to Androgel, Testim, Androderm or other Testosterone Treatment Drugs Call Wright & Schulte today for a Free Legal Evaluation at 1-800-399-0795 or by visiting www.yourlegalhelp.com
Columbus, OH (PRWEB) June 22, 2014
Attorneys at Wright & Schulte LLC are pleased to announce that a federal judicial panel has denied a request by Pfizer Inc., to be excluded from a consolidation of all testosterone replacement therapy lawsuits. Pfizer contended that only four lawsuits were filed against the company over its Depo Testosterone product compared to numerous complaints filed against manufacturers of other testosterone therapy products that treat low testosterone in men, such as AndroGel, Androderm and Testim. The judicial panel, however, included Pfizer in a recent industrywide centralization of testosterone treatment lawsuits pending in district courts across the country. (In Re: Androgel Products Liability Litigation, MDL 2545).
Pfizer Inc. and Pharmacia & Upjohn Company LLC, a subsidiary of Pfizer, made the request after the U.S. Judicial Panel on Multidistrict Litigation was asked in April to transfer all pending testosterone lawsuits to one federal court (In Re: Testosterone Products Liability Litigation, No. 42, JPML) One month earlier, the judicial panel was asked by plaintiffs who filed another motion seeking to centralize only AndroGel lawsuits. (In Re: AndroGel Product Liability Litigation, MDL Docket No. 36) Court records reveal that plaintiffs in the testosterone lawsuits all allege that they suffered heart attacks, strokes and other health complications as a result of using low testosterone treatment products.
In its motion to the judicial panel, Pfizer purported that the four Depo Testosterone lawsuits pending against the company will not overlap with complaints filed against other testosterone manufacturers as suggested by the plaintiffs who asked for the consolidation. Pfizer further pointed out that Depo Testosterone is distinct in that it is an injectable testosterone therapy and not a topical gel testosterone, like AndroGel, Fortesta, Axiron and Testim. Additionally, Pfizer's motion says that the testosterone replacement lawsuits focus on how manufacturers aggressively market their testosterone products through television advertising and Pfizer does not advertise Depo Testosterone in this way. (In Re: AndroGel Product Liability Litigation, MDL Docket No. 36)
The judicial panel acknowledged Pfizer's concerns as it ordered all testosterone lawsuits transferred to the U.S .District Court, Northern District of Illinois since the majority of the complaints were already filed in that court. The industrywide consolidation included 45 lawsuits pending against AbbVie Inc. and Abbot Laboratories, which manufactures and markets AndroGel; Endo Pharmaceuticals Inc., which makes Fortesta; Eli Lilly and Company and Lilly USA LLC, the makers of Axiron; and Auxilium Pharmaceuticals, Inc., which manufactures Testim. The panel's June 6, 2014, transfer order also stated that 81 potentially related testosterone lawsuits are pending in other district courts across the country and plaintiffs suggest that related cases "will number in the thousands."
jpml.uscourts.gov/sites/jpml/files/MDL-2545-Initial_Transfer-05-14.pdf, June 6, 2014]
The consolidation requests came in the wake of the U.S. Food & Drug Administration (FDA) announcing in January that it will reassess the safety of all FDA-approved prescription testosterone medication that treats hypogonadism, which is a low level of testosterone in men due to an underlying medical condition. The federal agency stated that it based its decision on two studies suggesting that men who use testosterone replacement therapy were at risk of strokes, heart attacks and death. One study cited by the FDA was published in the November 2013 Journal of the American Medical Association. The research found that older men who had an underlying cardiovascular disease and took prescription testosterone medication had a 30 percent increased risk of having a stroke, heart attack, or death compared to men who did not take testosterone medication. The second study cited by the FDA was published in the January 29, 2014 PLOS One Journal. This study found that men 65 years and older and younger men with pre-existing heart disease who took prescription testosterone medication had a higher risk of having a heart attack within the first 90 days after taking the first prescription.
[fda.gov/Drugs/DrugSafety/ucm383904.htm, January 31, 2014]
Wright & Schulte LLC attorneys are representing plaintiffs in the federal testosterone litigation, including a Lafayette, Louisiana, man who took Depo Testosterone injections between 2012 and 2014. The complaint, which names Pfizer, Inc. and Pharmacia & Upjohn Co. as defendants, alleges that the injections caused the Louisiana man to experience physical impairments, including anxiety, increased hypertension and an elevated heart rate.
Wright & Schulte LLC is offering free legal consultation to men who used low testosterone medication and experienced severe and life-threatening side effects during the treatment. To learn more about filing a low testosterone therapy lawsuit, contact the defective drug attorneys at Wright & Schulte by visiting yourlegahelp.com
About Wright & Schulte LLC
Wright & Schulte LLC, an experienced personal injury firm, is dedicated to the belief that America's legal system should work for the people. Every day, the attorneys of Wright & Schulte LLC stand up for the rights of people who have been injured or wronged and fight tirelessly to ensure that even the world's most powerful corporations take responsibility for their actions. If you're looking for a law firm that will guarantee the aggressive and personal representation you deserve, please do not hesitate to contact Wright & Schulte LLC today. Free testosterone lawsuit case evaluations are available through yourlegalhelp.com or by calling 1-800-399-0795.
Contact:
Wright & Schulte LLC
812 East National Road
Vandalia, Ohio 45377
1-800-399-0795
http://www.yourlegalhelp.com
Like us on Facebook
Follow us on Twitter
Join us on Google+