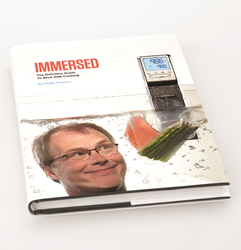 Niles, Illinois (PRWEB) June 23, 2014
"Immersed: The Definitive Guide to Sous Vide Cooking" has been written in collaboration with many of the world's top culinary stars to help both professional chefs and home cooks fully utilize the Sous Vide cooking method. The book provides easy to understand overviews of all key aspects of Sous Vide cooking including safety, equipment options and best practices. Also included are 65 recipes chosen to provide a base for further culinary exploration.
The author, Philip Preston, is a cutting-edge innovator that has had a leading role in growing the Sous Vide technique from a narrow niche to a concept widely adopted by many of they world's leading chefs. His goal is to help more chefs, and ultimately, home cooks better understand Sous Vide cooking to take control of their kitchens.
"Sous Vide cooking is exploding in the culinary world because it provides many advantages over other cooking methods," said Philip Preston. He added, "I wrote Immersed to help both novices and experienced professionals alike enjoy the many benefits of Sous Vide cooking regardless of their level of culinary skills."
The book showcases contributions from Wylie Dufresne, Johnny Iuzzini, Bruno Goussault, Thomas Keller, Nick Kokonas, Nathan Myhrvold, Chris Young and other top chefs, restaurateurs and culinary experts.
"Immersed: The Definitive Guide to Sous Vide Cooking" is scheduled for release in July and is now available for pre-publishing orders at cuisinetechnology.com.
# # # #
Philip Preston is the President of PolyScience which has been satisfying the most demanding laboratory and industrial needs since 1963. Consistent, precise and cost effective temperature control has been our core competency throughout those 50+ years. Building on that foundation, we're proud to have become the "go to" source for chefs and cooks seeking a wide array of precise technical solutions to their kitchen challenges. For more information, visit http://www.cuisinetechnology.com, call toll-free 1-800-229-7569 (outside the US call 847-647-0611), or email us at culinary(at)polyscience(dot)com.