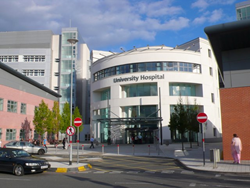 Project Server PRIME® has been designed to ensure that the Microsoft PPM solution is customised to the client's requirements, but also that they benefit from a thorough step-by-step implementation – from initial requirements right through to going live.
Warwickshire, UK (PRWEB UK) 1 July 2014
A leading NHS Trust has successfully delivered significant project management enhancements for the benefit of its constituents, with the help of delivery and implementation partner Wellingtone Ltd.
Coventry and Warwickshire NHS Partnership Trust, which provides vital health and community services to an 850,000-strong population, has successfully delivered the first stage of a 5-year IT strategy designed to fully align and manage all IT and transformational projects and ultimately enhance service delivery.
Accredited Microsoft Gold PPM Partner Wellingtone was the organisation of choice to guide the Trust through the implementation process. To do so, the company used its flagship implementation system, Project Server PRIME® – the first fast-track, fixed price implementation package of its kind, initially pioneered by Wellingtone in 2009.
Paul Elden, IT Service and Delivery Manager for the Trust, explained today how Wellingtone's approach helped to achieve vital milestones on the transformation project. "Right from the start Wellingtone helped us to explore Project Server in terms of what we wanted to change, how we wanted it to look, and aspects that we needed to add or take away," he said. "For us this project was about making big decisions - the right decisions - and implementing them comprehensively at the right time. Thanks to Wellingtone's fast-track system the implementation and training was achieved within a 3 month turnaround, from the initial discovery meetings to implementing the pilot. All customisation and final changes were made on Project Server itself prior to running the pilot phase on a hosted environment at Wellingtone's base. That was really helpful in protecting our operational uptime whilst we tested the system."
Vince Hines, Managing Director of Wellingtone, added to Elden's comments by confirming some of the benefits of the Project Server PRIME® package. "When an organisation decides to undertake a massive step-change of the kind that this Partnership Trust did, it's vitally important to ensure that the implementation is intelligent, well planned and fully tested" he said. "Not only does this ensure that the organisation can benefit from Project Server's enormous capabilities straight away, it also helps to protect all-important time scales and budgets to keep plans on track. We have deliberately designed our Project Server PRIME® package to ensure that Project Server is customised to the client's exact requirements, but also that the client benefits from a thorough step-by-step implementation – from initial requirements right through to going live – without any delays or surprises. We believe that Project Server PRIME® is a unique offering which others cannot match, and which delivers exceptional performance, consistency and value for the client."
Elden is already reporting significant benefits from adopting this implementation package, in terms of its impact on the Trust's project management standards and methods. "Project Server really makes people adopt the right working practices" he said. "We have to make sure things are done on time, in the right way and to budget. That's crucial for a large organisation such as ours which is so publicly accountable. Thanks to Wellingtone's help our Project Managers are now realizing the full potential of Project Sever. They are embracing the power of the tool in equipping them to do their jobs better and achieve better services and results for our constituents and communities."
About Wellingtone
Established in 1995, Wellingtone Ltd. is a specialist project management consultancy working with cross-industry public and private clients across the UK and internationally. The company works in partnership with clients to maximise their project success. Services include in-depth, "fit-for-purpose" analyses of current methods, training in best practice, recruitment drives and implementation of project and portfolio management technology solutions including Microsoft Project Server.
Wellingtone is a Microsoft Certified Gold Partner and offers a number of implementation services, including its fixed price, fast-track package Project Server PRIME®. The package includes:

Requirements Workshops
Pre-configured Project Server for a quick start
Hardware & Software Guidance
Installation (if opting for on-premise) Configuration to suit requirements including Reporting
UAT Workshop
Remote & Onsite Support
Onsite Administrator & End User Training
About Coventry and Warwickshire NHS Partnership Trust
Coventry and Warwickshire Partnership Trust was formed in 2006 and integrated with community services from NHS Coventry in April 2011. The Trust provides a wide range of mental health and learning disability services, as well as inpatient, community and day clinics and specialist services for a population of 850,000 people living within Coventry and Warwickshire.
The organisation now provides services from more than 80 locations with an income of about £200 million, and employs more than 4,000 dedicated staff.