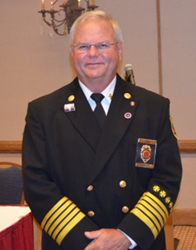 Orange Beach, AL (PRWEB) June 20, 2014
More than 115 fire chiefs and administrative officers attended the Alabama Association of Fire Chiefs (AAFC) summer conference on June 15-18 at the Perdido Beach Resort in Orange Beach.
Co-sponsored by Columbia Southern University, the event featured training, speakers and camaraderie for the fire leaders. Among the highlights was the election of CSU faculty member and Center Point (Ala.) Fire Chief Donnie West as the president of the group.
During West's one-year term as leader of the organization, he plans to support safety several initiatives. One is the group's new campaign of "Turn Your Attention to Fire Prevention."
"Alabama is among the states with the highest number of fire fatalities in 2014 with 61 so far," said West, who noted New York is No.1 with 86 deaths. "Fifty-four of those deaths in Alabama were preventable. We are pushing this campaign to educate the public in order to reduce fire fatalities." This initiative is being supported by the Alabama fire service leadership, he said.
West added that the group will strive to continue educating fire chiefs in leadership roles of best practices while supporting state legislation regarding residential sprinklers.
The conference keynote address was given by retired fire chief from Mesa, Ariz., Dennis Compton. The author spoke about "Let's Raise the Bar for Fire Officer Leadership." Compton is currently chairman of the National Fallen Firefighters Foundation Board of Directors, co-chair of the fire service-based EMS Advocates Steering Committee, and a member of several other national fire service associations.
AAFC will partner with the host city of Birmingham and the Southeastern Association of Fire Chiefs to present the 87th annual summer conference on June 18-20, 2015.
CSU offers online associate, bachelor's and master's degree programs in various fields including criminal justice, fire administration, occupational safety and health, and business administration. To learn more about CSU, please visit http://www.ColumbiaSouthern.edu.