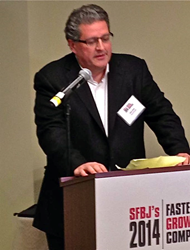 "...recruiting the top talent in their respective fields and creating an environment that allows them to thrive is a significant aspect of finding success..." - TouchSuite CEO Sam Zietz
Boca Raton, FL (PRWEB) June 23, 2014
TouchSuite, one of America's leading technology companies, has been named the fastest growing company in South Florida by the region's top business publication, South Florida Business Journal. The announcement was made at a dedicated reception in Fort Lauderdale on June 18, when South Florida Business Journal's editorial team counted down the top 50 companies to reveal TouchSuite ranked #1, with 1,760.8 percent increase in revenues from 2011 to 2013. The second highest-ranking company, 3A WorldWide in Miami, saw 1,238.8 percent revenue growth in the same time period.
"As an entrepreneur who took a big risk at an inopportune time in life in order to start this company, I can't tell you how much it means to be recognized for our exponential growth and overall success among some of the most prominent companies in all of South Florida," said TouchSuite CEO Sam Zietz. "I'm grateful to the South Florida Business Journal for their never-ending support to the area's business community, and of course, to the entire TouchSuite team. It's long believed that recruiting the top talent in their respective fields and creating an environment that allows them to thrive is a significant aspect of finding success, and our recent achievements have solidified my faith in this philosophy."
TouchSuite's significant, exponential growth has earned them recognition among leading national business media, including Inc., who have listed TouchSuite on its annual "Inc. 500" list of America's fastest growing companies for five years, placing it at #105 on the most recent list in 2013. TouchSuite has also won awards for its exceptional health and wellness program and entrepreneurial accomplishments, and Zietz was personally, recently named one of South Florida's "Ultimate CEOs," an honor also bestowed by the South Florida Business Journal.
About TouchSuite:
TouchSuite is one of America's leading technology companies focused on the electronic payment space, and has been honored five times on Inc. Magazine's "Inc. 500" list of the fastest growing private companies in America. Its award-winning, patented point of sale systems are fully integrated with payment processing services catering to restaurants, salons, spas, and retail establishments. The systems are designed to help small- and medium-size merchants increase revenue by using the provided tools and solutions. TouchSuite's sales infrastructure provides merchants and agents with an unprecedented 24/7 support system and ensures a positive user experience. TouchSuite is headquartered in Boca Raton, FL.
For additional information about TouchSuite, its company and services, please visit http://www.touchsuite.com.