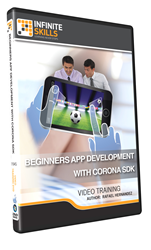 Learn Beginners App Development with Corona SDK at your own pace.
(PRWEB) June 22, 2014
Software training firm Infinite Skills Inc. last week released its "Beginners App Development With Corona SDK Tutorial," a course designed for beginning app developers, teaching the fundamentals of this user-friendly software development kit (SDK).
The Corona Software Development Kit (SDK) allows users to access the power of C++/Open GL through Lua, a language layered over C++, which uses a more intuitive set of commands. Corona allows programmers to work across both iOS and Android operating systems, allowing applications to control the full range of mobile device features, including the camera, accelerometer, magnetometer, video player, and GPS.
With Infinite Skills' "Beginners App Development With Corona SDK," new and learning developers can quickly grasp the core concepts and techniques of this fun and powerful development tool, learning to create a basic business app in a matter of hours.
Beginners App Development With Corona SDK Tutorial - DVD
Course author Rafael Hernandez is a composer and a teacher as well as a developer. He is currently Interim Associate Dean and associate professor at California State University in East Bay. He has been using Corona since 2010, and has earned recognition within the Corona community for his series of educational and tutorial videos about learning the framework.
In this course, Hernandez focuses on four primary topics, creating assets, building interactivity, data-display, and in-app data and preference storage, providing concrete examples for each topic as he guides users through the development of a basic business app.
First, Hernandez looks at how to create the images and text that compose the visual presentation of the app, as well as how arrange and animate them with features such as grouping, color fills, and animation.
As the course continues, Hernandez goes in detail with basic user-interactivity, incorporating data tables, managing scenes and screens, and handling application data.
Finally, Hernandez helps users put the finishing touches on their app by configuring it for general use with options that provide consistency for the end-user from use to use.
"The primary content for our app will be a fictional company called Donut Mogul," Hernandez explains.
"We'll be creating an app that lists all the delicious pastries that Donut Mogul creates, and allows the user to drill down and see what particular pastries are to their liking."
Free demo videos and a full list of course contents can be found on the Beginners App Development With Corona SDK Tutorial page of the Infinite Skills website:
http://www.infiniteskills.com/training/beginners-app-development-with-corona-sdk.html
Infinite Skills offers its Beginners App Development with Corona SDK Training Course Training Video either as a DVD or a direct download from the company website at a retail price of $49.95. Though the compatibility of programs varies, all Infinite Skills titles and formats are compatible with both Mac and Windows operating systems, and shipping is available around the globe. Additionally, Infinite Skills tutorials are supported by project files which correspond to examples in the videos.
About Infinite Skills Inc.
A leader in the field of software training, Infinite Skills designs its courses on a task-oriented model, teaching complex skills by providing hands-on examples and guiding users as they carry out essential functions. Infinite Skills offers a wide range of software titles available as DVDs, digital downloads, and in iPad editions. Infinite Skills now offers a subscription service, providing access to all its training content for a monthly fee, keeping with company's aim of delivering professional training to customers anywhere they want to learn.