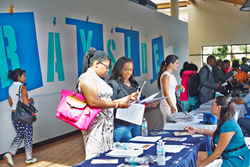 Miami, FL (PRWEB) June 24, 2014
The Miami Bayside Foundation held their annual Minority Business to Business Event at Bayside Marketplace as part of its commitment to economic development in the City of Miami. The overarching theme of the event was "Doing Business in Miami" in which a panel of five guests discussed strategies on how to start, strengthen, and grow a small business. Speakers included Bob Arnold of Victoria Law Group, Marjorie Weber of SCORE Miami, Louis McMillan Chair of the Loan Committee of the Miami Bayside Foundation, and Ricky Brantley owner of Viking Defense Inc. City of Miami Mayor Tomas Regalado launched the event which had on-hand twenty-three local and national organizations to provide resources and answer questions from the attendees. The Miami Bayside Foundation aims to partner entrepreneurs/small business owners with resources to take their City of Miami business to the next level.
The Miami Bayside Foundation, a City of Miami-based nonprofit established in 1986, has created and administered a loan program for City of Miami minority businesses, funds scholarship endowments and gifts programs for City of Miami minorities studying entrepreneurship and business, and provides technical assistance to small businesses in the City of Miami.
For more information on the Miami Bayside Foundation, please call (305) 379-7070, email info(at)miamibaysidefoundation(dot)org or visit http://www.MiamiBaysideFoundation.org.