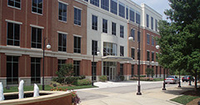 Raleigh, NC (PRWEB) June 23, 2014
Timmons Group, an ENR Top 500 Design Firm with four offices in North Carolina, announced today that they have acquired Development Consulting Services, Inc. out of Raleigh, NC. The acquisition will bring additional civil engineering capabilities and expertise to Timmons Group's clients throughout the state.
Led by Keith Roberts, Development Consulting Services is a successful civil engineering firm that has been operating in the Raleigh area for over 15 years. Roberts will be taking a leadership position at Timmons Group as head of Land Development in the Raleigh office. "Development Consulting Services' clients will benefit from the merger because with Timmons Group, we can now offer a wider variety of services." said Roberts.
Development Consulting Services has developed an excellent reputation for delivering top-notch engineering expertise and is a trusted partner of numerous clients in the region. The addition will allow Timmons Group to better serve clients by leveraging Development Consulting Services' strong local knowledge and relationships.
Brian Bortell, President of Timmons Group, agrees, "By bringing Development Consulting Services into the Timmons Group family we will be able to better serve our existing and future clients. The merger expands on our commitment to the Raleigh area and reinforces our dedication to providing unparalleled service to our North Carolina clients."
About Timmons Group
Timmons Group is a multi-disciplined engineering and technology firm recognized for over twenty years as one of Engineering News Record's (ENR) Top 500 Design Firms in the country. The firm provides economic development, civil engineering, environmental, GIS/geospatial technology, landscape architecture and surveying services to a diverse client base. Headquartered in Richmond, Virginia, Timmons Group has regional offices throughout Virginia and North Carolina. For more information, visit http://www.timmons.com.