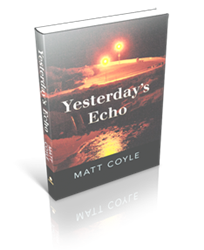 This celebration of the crime noir novels of old with a modern sensibility in Rick Cahill as hero will strongly appeal to fans of classic hard-boiled PI novels. —Library Journal (Starred Review)
Longboat Key, Florida (PRWEB) June 23, 2014
YESTERDAY'S ECHO by Matt Coyle has been awarded a second literary prize for 2014. Having previously received a silver medal for Best New Voice by the IBPA Benjamin Franklin Awards, Coyle now adds the San Diego Book Award for Best Published Mystery, Sisters In Crime Award!
YESTERDAY'S ECHO is available in hardcover (ISBN: 978-1-60809-076-1, Thriller, 312 pages, $26.95), all eBook/digital formats (ISBN: 978-1-60809-077-8, $14.95), and audiobook (ISBN: 978-1-4692-7744-8, $29.99)
The Story...
Murderer: the label that stains forever. Can Rick Cahill find redemption by rescuing another accused? A woman with a past, darker than his own.
Chandler-esque—A hard edge with a heart
Rick Cahill was never convicted of his wife's murder, but he was never exonerated either. Not by the police. Not by the media. Not even by himself. Eight years later, police suspicion and his own guilt remain over his responsibility in his wife's death.
When he meets Melody Malana, a beautiful yet secretive TV reporter, he sees a chance to love again. When she is arrested for murder and asks Rick for help, the former cop says no, but the rest of him says yes and he grasps at a chance for redemption. But Rick's attempt to help turns terribly wrong, and he becomes a suspect in the murder and the target of a police manhunt.
On the run, Rick encounters desperate people who'll kill to keep their pasts buried. Before Rick can save himself and bring down a murderer, he must confront the truth about his own past and untangle his feeling for a woman he can never fully trust.
The Buzz...
"Coyle does a superb job of drawing the reader in and keeps a steady pace of action along with solid character development. This celebration of the crime noir novels of old with a modern sensibility in Rick Cahill as hero will strongly appeal to fans of classic hard-boiled PI novels."
—Library Journal (Starred Review)
"Coyle's promising debut introduces ex-cop Rick Cahill, a tarnished knight who battles internal and external demons...Cahill turns out to be both tough and resourceful when forced to confront his past. Readers can hope his future will be brighter."
—Publishers Weekly
"Outstanding debut…Don't miss this one! Wow, thumbs up for Matt Coyle!...Coyle is going to give some of the mystery writers a run for their money."
—Fresh Fiction, April 2013
"Yesterday's Echo is plotted with a sure hand, and the prose flows fast and crisp like a mountain river. It will captivate you so that you don't want to put it down, and you don't want it to end—at least not until the next installment is available."
—Suspense Magazine
". . . [a] flawlessly executed debut novel . . ."
"Told in the first-person, Mr. Coyle's flawlessly executed debut novel, Yesterday's Echo is crime noir at its best, teeming with memorable characters and unexpected plot twists.
The warts-and-all Rick Cahill is a breath of fresh air and one of the most exciting protagonists to hit the pages of a novel in a long time.A cool, compulsively readable crime story from beginning to end."
—New York Journal of Books
"The plot thickens like California fog, and in that gray murk, Rick sees the light. He realizes he's been had and reminds us that life moves forward, but the reverberations chase after you like yesterday's echo."
—Bookreporter.com
"In "Yesterday's Echo," blackmail and historical intrigue are intermixed with the murder theme. Cahill is pulled in several directions as he tries to stay out of jail, save the restaurant and resolve Adam's and his wife's murders. Those looking for a fast-read beach book will find this is a good one."
—San Diego Union Tribune
"Yesterday's Echo by Matt Coyle-was surprised at how good the first novel set in La Jolla California was. Award worthy."
—Deadly Pleasures
Distributed by Ingram, Baker & Taylor, Midpoint Trade, OverDrive, and other fine distributors.