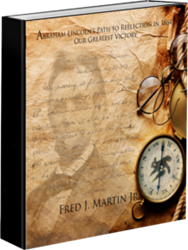 "Arguably the most consequential election in American history, the presidential contest of 1864 has cried out for a more sophisticated analysis than it has heretofore received."
Washington, DC (PRWEB) June 24, 2014
If America wants more insight into 21st century politics, maybe it needs to look back to 1864.
Fred J. Martin Jr. explores Lincoln's legacy and how his policies still impacts people today in his new book, Abraham Lincoln's Path to Reelection in 1864.
"Arguably the most consequential election in American history, the presidential contest of 1864 has cried out for a more sophisticated analysis than it has heretofore received," says Martin.
Martin says President Lincoln's ethical and moral core and writing skills set a standard for today's political leaders.
"The Reelection of Lincoln gave the north victory in the Civil War," Martin says. "Lincoln also restored the national economy, revived banking, established the National Banking System, built a tax structure and maintained a viable fiscal and monetary policy."
Abraham Lincoln's Path to Reelection in 1864 takes the 16th president from his earliest years up the ladder of his words, as he educated both himself and ultimately the nation to save the union and accept emancipation.
"Fred Martin's background in political journalism and in banking has enabled him to provide such an analysis in this book, which is a welcome addition to the Lincoln literature."

Michael Burlingame, Author, Abraham Lincoln: A Life
Abraham Lincoln's Path to Reelection in 1864: Our Greatest Victory
By Fred J. Martin Jr.
532 pages
Paperback 6x9, retail price: $19.95
E-book, retail price: $9.99
ISBN: 9781491835302
Available at http://www.amazon.com and http://www.barnesandnoble.com.
About the author
A lifelong interest in Abraham Lincoln coupled with the study of history, government and politics coupled with experience as a news reporter, in political campaigns, in politics and in governmental activities. My Great-Great Uncle with a bullet-shattered elbow took leave and campaigned for Lincoln's Reelection but returned to active duty to merit a brevet major general commission at the age of 32. Since retirement I have devoted the last 20 years to research Lincoln at the Library of Congress, state historical societies, archives and libraries across the nation. A retired bank executive, I am a Visiting Scholar at the University of California Berkeley Institute of Governmental studies.
# # #