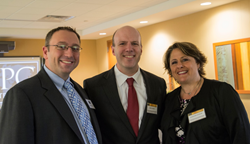 Warren, NJ (PRWEB) June 24, 2014
On Wednesday, June 18, 2014, AEPG Wealth Strategies celebrated its acquisition of Freedom Divorce Advisors. Over fifty professionals in family law, accounting and other related professions attended the event which was held at AEPG's headquarters located at 25 Independence Blvd, Warren, NJ.
Principals of the combined AEPG Divorce Advisors and Freedom Divorce Advisors practice, Rosemarie Moeller and Noah Rosenfarb and AEPG COO Chris Schiffer were on hand to greet the guests and introduce fellow team members Stephanie Bowyer and John Cito.
Freedom is the recognized leader for family law attorneys and their clients who seek financial guidance in the event of divorce. This merger broadens Freedom's capabilities by leveraging the strength of AEPG Wealth Strategies, an independent registered investment advisor with over $780 million in assets under management and a solid reputation for providing personalized service and comprehensive wealth management for individuals, physicians, business owners and corporate clients.
For more information contact Rosemarie Moeller: rmoeller(at)aepg(dot)com, http://www.aepg.com/our-firm/team-bios/details/43